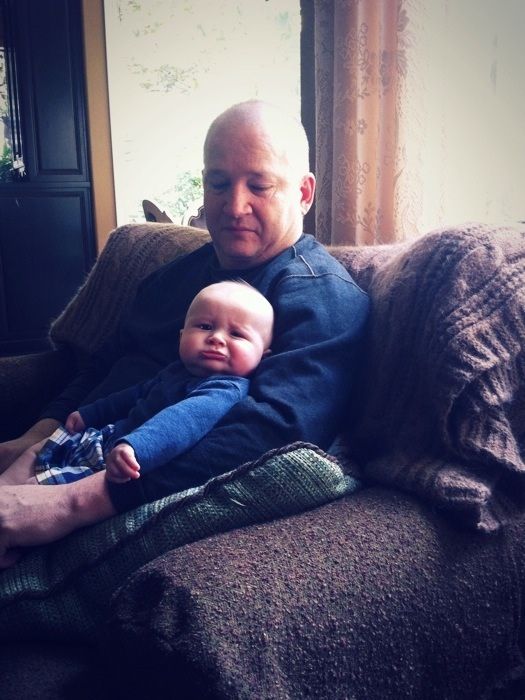 Well! Two weeks and a hundred dollars to check an overweight bag later (seriously dudes), we are now back in New York City. Hooray! We landed a few hours ago and immediately I started to feel . . . what is that? . . . homesickness? Suburban ennui? Grandchild theft-related guilt?
Ding ding ding, there it is!
These days there are all manner of technologies designed to keep us close together in a world that is increasingly keeping us far apart. Unlimited cell phone minutes, emails and text messages, Skype, Google Chat and FaceTime . . . but sometimes that all just isn't good enough for me. Some days I long to actually live NEAR my parents. Crazy idea, right??
I have always been, and will always be I suppose, one heck of a homebody. Weirdly, even though I am nearing a decade of marriage and life in my thirties, and even though I have a family of my own now, that home for my which my body still longs seems to be the home of my dear old mom and dad. And aren't I getting a little too old for this already?
And yes yes and all that, but wait! Did you know that there are people who actually choose to live in the same town as their parents, like, on purpose? Like, family-togetherness type stuff? Can you believe that used to be totally normal?
After the jump, a cultural anthropology experiment. So, like, click over or you're ruining my fun. Yeah?
It seems like "back in the day" (like, 1970? roll with it) accepting a job offer based on family ties was a more common, more acceptable occurence. And definitely, in other cultures at least, choosing a vocation and buying a home with which to establish roots in a community is still entirely based on where your family is and always has been.
Doesn't it seem like here in the good old U.S. of A. things don't work that way anymore? And why is that?
My husband and I chose to live in New York City for educational opportunities, and now that we're finally (finally!) finishing that chapter of our lives, we are choosing to stay in New York City so my husband can have the best possible employment opportunities available in his career. Most days, 99% of days, I am so glad to be here. Some days, today for instance, I am wondering what the heck is wrong with us to put career ahead of family (who all live on the West Coast).
My very favorite thing to do lately is remind my  husband (gently) (daily) (but *not* in a nagging way, duh) that in a few years, when his career is really rolling, we'll relocate out West to be closer to family, and finally buy me a farmhouse so I can have some chickens (dream big).
And now, I propose a cultural anthropology experiment. (You have to play along for it to work.) What I want to know is, where do you live? Where do your parents and other family live? How much of a factor in your life choices is their location? If you live far away, how do you keep your parents involved in your childrens' lives? Any advice for me? Would you ever consider choosing a job or home based on where your parents live? Do you like the name "Bossy" for a hen? And is it true you can't hard boil farm fresh eggs??
Article Posted 5 years Ago