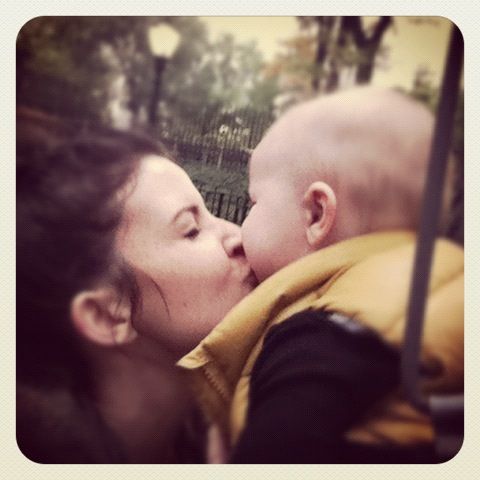 I had to laugh when I read this article on CafeMom about their indispensable tips for "clueless moms." Because, for one thing, we're all sort of clueless, aren't we? Even those of us first timers who babysat a ton (babysitting for me was way harder than parenting–am I the only one with this experience?), and even those of us old-timers who are on our millionth kid. (Each kid seems to somehow come out as their own person with their own preferences?!? Rude!)
I mean, we're not clueless at all, is the one thing I've really learned over this last year. We all come equipped with a set of instincts perfectly suited to the persons we birth, is my theory, but okay, let's roll with this anyway.
So I thought I'd throw my own hat into the ring. Here, based on my own limited experience, are my Ten Tips for Clueless Moms! Exclamation point!
TIP ONE: Sleeping is more important than eating.
I was so afraid my baby would go hungry (and starve!) that in the very beginning I would try to make him nurse even when he was clearly too something to cooperate. It took me a while, like a couple weeks, but then I realized he wasn't possessed by Satan, he was just tired. And guess what? He never once woke up emaciated or on the brink of starvation! (In fact, usually he'd wake up happy and ready to eat.) Light bulb moment.
TIP TWO: Sleeping is more important than ANYTHING.
It does not matter if it happens in the crib, in the car seat, in the swing, in your arms, on your chest, in your bed, in the Bjorn, or on the moon. Let him sleep! Better to have a kid sleeping in weird places than a kid who doesn't sleep at all. And don't feel embarrassed. That's a waste of time.
TIP THREE: Don't stress the small stuff.
Here's the good news. It's ALL small stuff. His reflux will pass. His colic will pass. His diaper rash will pass! Your inability to wear a shirt without soaking through it will pass. The sleeplessness will . . . maybe? . . . no, it WILL pass. I know it all feels so hugely monumental, but all of these phases go so fast that just when you're getting used to them, it's time for something new, something weirder, sometimes something better, often something worse, but always something new. I heard this one a lot, but it bears repeating: Enjoy the crud you have while you have it. You will look back at that crud and be all, Awwwwwww. I know, it's weird. Parenting is weird.
TIP FOUR: Baby hairs belong in mohawks.
Take what little hair they have and stick it to the sky! I don't know, this one may be a personal preference.
TIP FIVE: Feed your baby frequently.
So, babies need to eat. How often? Lots often. We nursed on demand, so sometimes it was every four hours and sometimes it was every twelve minutes, but I always offered a boob before we left to go anywhere, again at least once while we were there, and then immediately when we got home. My doc told me the general rule is that by the time your baby is crying from hunger, he is too hungry.
TIP SIX: Thank your body every night before you go to bed.
Whether you gave birth vaginally or via c-section, whether you are nursing or formula feeding, whether you carried late or to term or your water broke early, your body did an amazing job. You will feel normal again. You may or may not miss the hormonal mess you are currently occupying, but pretend like you will and cherish it.
TIP SEVEN: Get out, get out, get out!
Get out of the house! Go to the library, join a play group, go to the grocery store five times a day, just get out of the house! If your kid is a crying train wreck of horror, that's even more reason to get out! NOBODY CARES!! And you need to see people, even if you look like you've been dragged through the tread of a pair of hiking boots. You need the sun on your face, your baby needs the distraction and fresh air, you'll both feel so so much better.
TIP EIGHT: Your baby does not need to be bathed every day, unless you want your baby to be bathed every day.
The same goes for starting solids (your call!) sleep training (YOUR CALL!) using a binkie (your call) swaddling (up to you, mama) not swaddling (life goes on!) etc. Maybe we're so stressed about screwing things up that we forget to notice that WE'RE IN CHARGE NOW. Don't you remember how much you looked forward to this day? You're the boss now!  It happened! You can say, "Because I said so!" So stand up a little taller, you totally rule this roost!
TIP NINE: Husbands are equal owners in this operation.
50/50 is hard to achieve right off the bat when you've got all these crazy hormones telling you that you can't be separated from your baby for even three minutes (plus dad still has no boobs? figure that out, man!), so go into it with a Dad Plan. Some Dad Plans involve bath times, bedtime routines, midnight feedings with a bottle, or all poopy diapers when he's home, or pushing the stroller/wearing the baby whenever the family takes an outing. Our Dad Plan is that Dad gets Baby on Saturday mornings from the minute those baby eyelashes flutter open until the minute those baby eyelashes need their morning nap. Mama S-L-E-E-P-S. If you decide this kind of stuff up front, it's easier on everyone.
TIP TEN: Always ask your pediatrician for her advice, but don't be afraid to follow your gut if your gut disagrees.
Our pediatrician was pretty hard and fast about the solids needing to start right at 6 months. I wasn't. So I did my research, listened to my gut, and we delayed solids. My kid is still thriving! Nobody died! That happens sometimes. (Please don't ever ignore your doctor outright, I mean, they did go to school and things.)
What would be your advice to clueless moms?
Having a baby? Here's 10 things this mom would do differently
Article Posted 4 years Ago