Adventures in Drinking Water
Natalie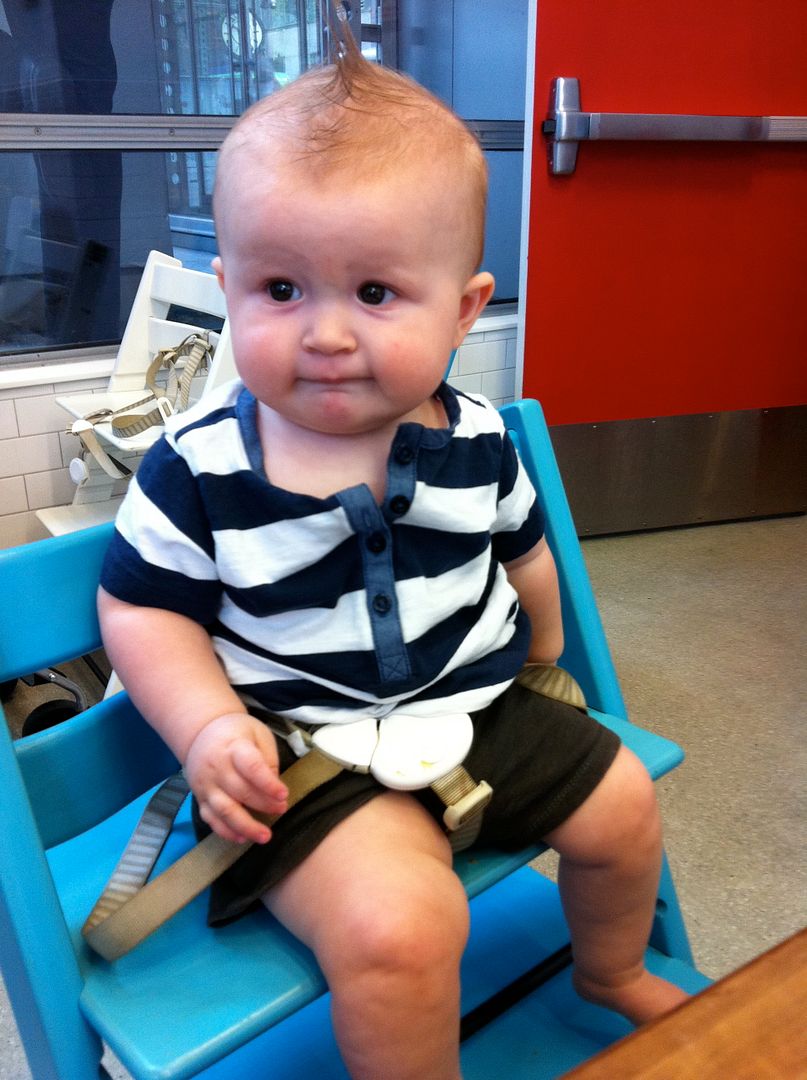 The past few weeks Huck has had some . . . let's put this delicately . . . downstairs issues.
I figured it was his system getting used to all the new foods he's been trying, and of course it wasn't anything terribly painful, but just something I noticed could use a little remedying, let's say. So we tried the prunes and the oatmeal and they helped, but then I wondered if maybe he just wasn't getting enough water in his diet.
Huck still nurses ten or more times a day (we nurse on demand and it never occurs to me to actually count, but let's just say it's at least ten times a day, possibly fifty million times a day), but even though a lot of his diet is liquid, he still needs to be getting some water these days. Right?
More after the jump.
The problem was, Huck doesn't drink from a cup terribly well. He loves to try it, but it mostly dribbles down his chin and onto his shirt, and I sometimes wonder if maybe Huck thinks that's the point of it all? Like actually ingesting it isn't on the menu?
So I consulted with a friend who has a three-year-old and a daughter Huck's age. She said her baby had figured out how to use a straw entirely by accident, when the three-year-old handed the cup with the straw to the baby, and the baby just leaned over and did it.
"I swear, I did nothing to encourage her," is what my friend said.
So that afternoon while I was at the drug store, I noticed some reusable no-spill cups with straws, and I grabbed a pack. I figured, what's the harm?
I filled one up with water and handed it to the dude when we got home while I put some things away. When I turned back around not a minute later, Huck was sitting there, water dribbling down his chin, with the goofiest grin on his face, like he had just discovered gravity.
(About two days later he mastered the ingestion technique.)
And now, some extreme cuteness. I swear, his thighs are at maximum squishiness these days.
OUR STORY BEGINS ON A FRIDAY AFTERNOON

1 of 6

The very Friday before Hurricane Irene!

HUCK WAS WAITING FOR DADDY

2 of 6

Daddy was in the bathroom.

HUCK STARTS TO GET ANSTY!

3 of 6

Oh no! Not the table!

Here! Have some water!

HUCK TRIES THE WATER

5 of 6

New skillz come in handy, fools.

HUCK LIKES THE WATER!

6 of 6

Hooray for moms!
Looking to make the switch from breast milk to cow's milk? Babble suggests when and how.
Article Posted 5 years Ago