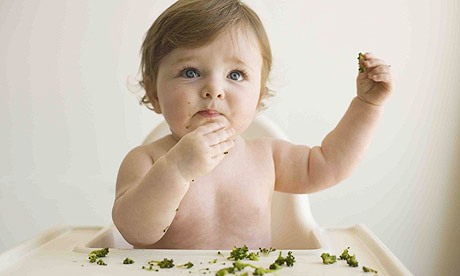 Seriously, internet! You've twisted my arm and convinced me to give this whole Baby Led Weaning phenomenon a go. Despite my fears of choking and the happy memories I have of blending up organic, mama-made purees for my firstborn, I can't help thinking that this whole BLW business just.makes.sense.
I try as often as possible to practice simple parenting. We take a back to basics approach everywhere we can – less is more in my birthing choices, diapering, toys, you-name-it. We like encouraging the natural process of growth and development as often as possible and so the more I read, the more convinced I've become that Baby Led Weaning is the most natural way to introduce babies to real food.
I've mentioned it here before, but I've been kind of dreading starting solids at all because it just feels so much more complicated than the sweet breastfeeding situation we've grown comfortable with. But it's time. I know it's time. I gave Arlo a piece of  whole wheat pizza crust off my lunch this week to naw on and the kid nearly LOST HIS MIND with love. You would have thought I had handed him a Godiva truffle.
So I'm wading into the world of Baby Led Weaning very slowly. And I can promise you that as I head off to prepare finger sized pieces of steamed carrot and broccoli and pasta for my little guy to nom on, I'll be tossing worried glances over at my trusty food processor.
You BLW fans are promising me that this approach is easier and that eventually it will be second nature and I'll throw my head back and laugh at the silly attachement I feel for my puree-creating appliances. I've heard too many rave reviews, read too many that-makes-sense articles not to at least try it. So we're giving it a go. This week, we're all in.
Operation Baby Learns to Eat Real Food on His Own Terms (or OBLERFHOT for short – catchy, eh?!?) has begun! Reports from the field to follow.
Over and out.
~Melissa
(image via)
Article Posted 4 years Ago