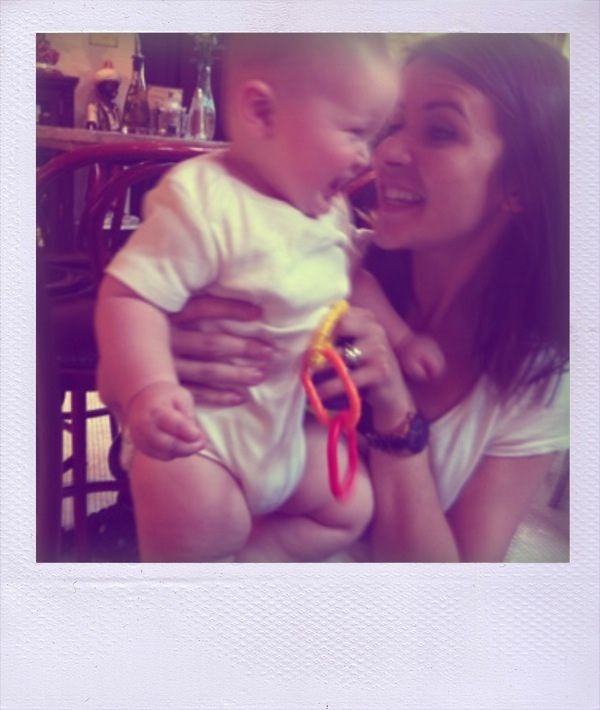 Tomorrow morning, Huck and I are jetting off to Portland to spend some time with grandparents. Oh boy are we excited!
Huck and I have logged quite a few miles in the air together since he was born. There was a trip to Utah for Christmas (and resulting two-day adventure marooned at the Minneapolis airport), and there was another trip to Portland back in March. Both times Huck flew like a champion, nursing agreeably on take off and landing, sleeping through most (if not all) of each leg, and never bothering to shout much or voice any disagreeable opinions. I considered myself pretty darn lucky.
But these days he's all nine months old and stuff. He likes to do stuff and see stuff and explore stuff and motor around and stuff. He's not crawling quite yet, but sort of pivoting in different directions until suddenly he has gotten himself to the opposite end of the room, and getting him to sit nicely on my lap these days is a little nutso.
But I have a plan! I do! And I'm feeling pretty good about it! Sort of!
First of all, I have a purse. It is stocked with:
1. Snacks. Snack and snacks and snacks. Soooo many snacks. Like, HappyMelts (for both Huck and myself, those suckers are TASTY), and pretzel sticks for when things get really serious.
2. Quiet toys. Oh, I've got a board book and a soft book and his little plastic dog and some linky chain thing and his favorite rubber ducky. I am hoping and praying that I can pull these out one at a time and each time the toy will be new enough to buy me at least five minutes of active quiet time.
3. My wallet. Wallets are really fascinating when you are nine months old, huh?
4. Sling for nap time. Oh please let there be a nap time!
When my purse runs out of fun, there's always:
1. Laps. Walking laps up and down the airplane sounds perfectly delightful, doesn't it?
2. Complementary beverage service. Huck is just to the age where he loooooves to drink water. Approximately 5% is only ever swallowed, which is even funner. Water! Weeeee!
3. Mickey Mouse Clubhouse on the iPhone. It's times like these I really, really wish I had an iPad fairy (such a wide screen!). (If you have an iPad fairy you really ought to share.)
Anything I am missing? Got any good tips for entertaining the 9 monthers when you have the middle seat on the plane? (oof).
Article Posted 5 years Ago