Notes From The Trenches: Nursing
Natalie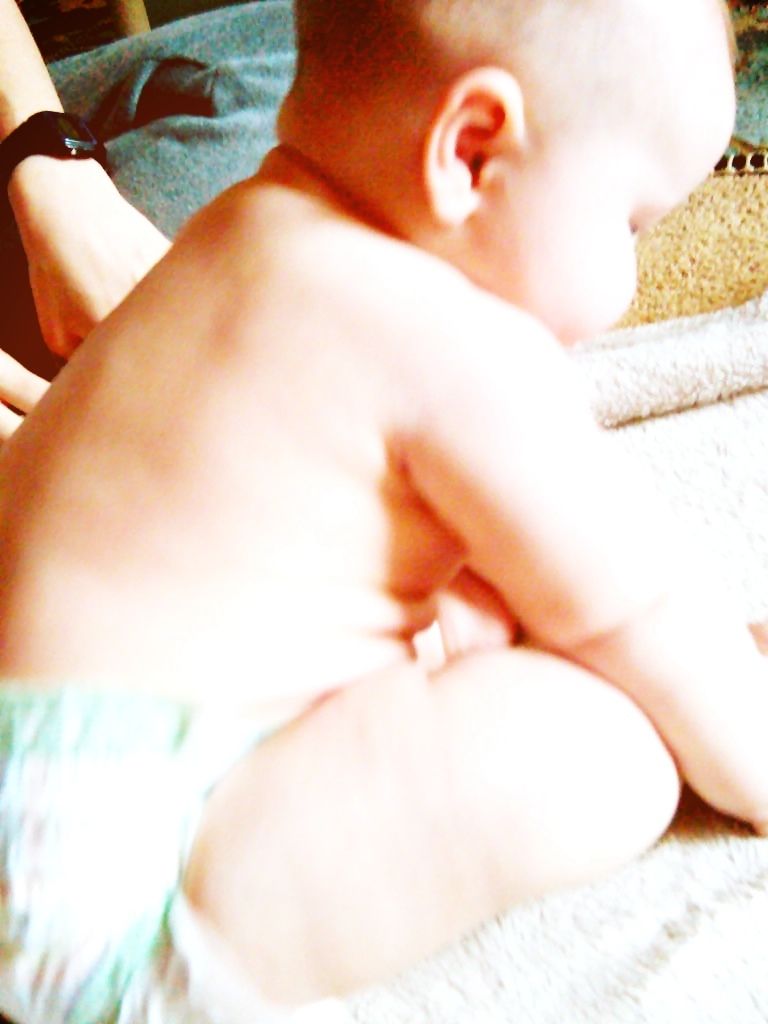 I love the nursing. Oh, I'll say it again. I LOVE THE NURSING!
In the beginning, I didn't so much love the nursing. Nursing, ouch! Add to that the stress of finding a good latch and the pain of outfitting my new knockers, and geez.
We've been at it for over 5 months, the Huck and I, and now nursing might be one of my favorite things to do ever. Along the way I've picked up a few nursing notes that have saved my mammaries. I'll pass them along to you cause I like you so much.
1. Nothing is permanent.
I repeat this to myself a lot. Nothing is permanent; not engorgement, not clogged ducts, not cracked nipples, not foremilk imbalances. It all evens out, and then I'll be running low for a couple days, dry as the Sahara, then suddenly I'll be a leaky faucet for a couple days after that. One minute I'm making him overly gassy and he screams in torment–not the boobs, mom!–and the next minute we're blissfully nursing away the afternoon. But nothing sticks around. This is both good news and bad news.
2. It takes fully 3 months to get the hang of it.
Fully. For me, anyway.
3. Remember: one boob at a time.
I hated walking around lopsided those first few weeks and months of nursing, which was what always happened when I'd nurse only one side per feeding, but the lactation consultant at the hospital was firm: nurse one side per feeding, for a minimum of 10 minutes, ideally 20, but even for as long as 45 minutes, no swapping (unless you are obviously empty and he still seems hungry.) Now that my baby is older and has developed the appetite of a trucker, I've found I can give him both boobs at a feeding and not have to deal with that weird, grassy poop.
4. Just Say No To Broccoli
Also cabbage. Yikes!
5. It's okay to put him to sleep hungry!
There was a period of time (say, 8 weeks through 12 weeks) where Huck would often refuse to nurse. I'd offer to feed him and he'd screech and sob and wail in protest. I was terrified that he'd starve and would persist at attempting to feed him until finally I'd remember to remind myself that it was ok to put him to sleep hungry. So I'd put him down for a nap exhausted and tearful (both of us), and when he'd wake up, he'd magically be ready to eat. Like clockwork! Shoot, sometimes you just gotta chill out on the boobage.
6. Just when you think you're done needing breast pads . . . you aren't.
Panty liners will work in a pinch.
7. Old-fashioned cloth diapers make for a fast letdown's breast friend.
I mean, best friend. When your milk lets down, quickly break the latch and use the cloth to soak up the forceful spray. If you try to use a pump for a fast letdown, you're only reinforcing your boob's crazy notion that that much milk all at once is necessary. As long as nobody's demanding that much let down, your boobs will eventually figure it out and relax.
8. Try to be patient.
Easier said than done, but really, I figure learning to feed a baby with your boobs has got to be way easier than learning to eat with your mouth. I mean, think about it.
What are your favorite nursing tips?
Article Posted 5 years Ago