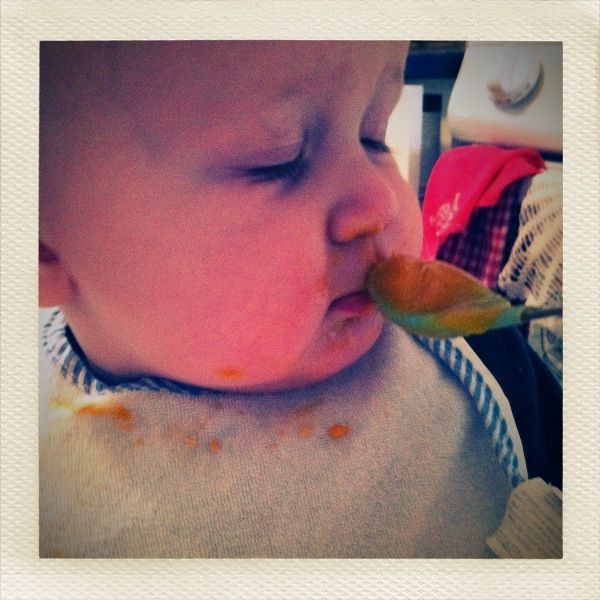 When Huck hit that magical six month mark and my pediatrician started in on me about getting him on a regimen of solids, I'll admit it, I totally balked. I wasn't sure what exactly I felt so iffy on . . . was it the part where I needed to have a solid foods "schedule?" Or just the solids themselves? Did I think he was too young? It just didn't feel like the right time and so while I bought a few jars of whatever looked interesting to me, I didn't have any plans of actually opening them or anything.
(Can we talk about the ickiness that is apricots and squash mixed together? That just sounds wrong, doesn't it?)
But these days Huck seems into it, so we've been sampling solids here and there, usually in the form of bites of whatever I'm eating, and normally as something to do to fill the witching hours between 4 and 6PM.
Even more of this fascinatingness after the jump.
I can generally convince him to try a few spoonfuls of actual baby food before he loses interest entirely (if it's "people food" he wants it till it's gone), and that's just fine with me. As long as he's willing to taste it, gives it more than a few spoonfuls before giving up, and we leave the high chair happy, I call it successful. (Though we've never made it more than two tablespoons into any one jar at a time, except for the time we tried mashed peas–yummmm, mashed peas).
When the people at Happy Baby contacted me to send some baby food samples for review, I was a little doubtful that we'd actually get around to trying many of them. One jar of food can last us four days around here (and yes, I do follow "baby food safety" and move the food from the jar to a bowl before dipping a used spoon in there, though it seems excessive to me to be honest. You too?).
But I shouldn't have feared, because apparently these days baby food includes all kinds of exciting things, like yogurt melts! And Baby Cheez Doodles! (As we like to call them.)
I can give Huck a HappyMunchie and the dude is entertained for a full ten minutes. He can easily gum it into a soft, mushy substance so I'm not paranoid about choking, and it's healthy, too! (Though to limit his processed food exposure I'll only give him some every few days.) (I know, this coming from the woman who posted pictures of her son eating a Twizzlers on the Internet, whatever Natalie.)
But what I'd really like to know is, why is it so hard to buy green baby food anymore?!? Orange orange orange! A few of my friends have actually seen their kids turn carroty after a few too many orange jars of baby food. Carroty!
Solids! I am telling you!
What's your favorite brand of baby food?
Article Posted 5 years Ago