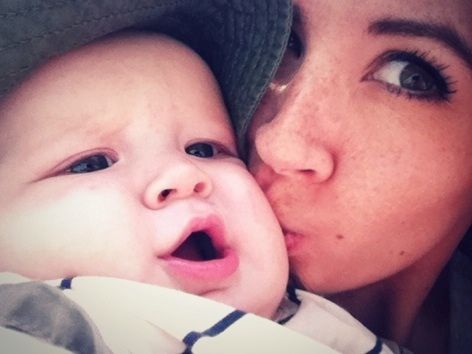 The other day a friend asked me for my best parenting advice. I laughed and said, "Brace yourself, it's kind of pathetic."
Pathetic or not, it's amazing what a difference it makes. You're dying of curiosity now, aren't you? You're thinking to yourself, I MUST KNOW THIS SECRET!
Well. My best parenting advice is this:
Do whatever you gotta do to feel pretty.
Oh, I don't know. Probably it's just vanity, or possibly it is all in my head, but I swear I have a better outlook on my life when my hair is curled. Maybe I haven't seen a full night's sleep in six months, but hey, at least my under-eye circles are concealed! Sure I'm covered in spit up, but at least I look nice! Similarly, I've found that if I don't feel attractive, I spend a lot more time feeling grouchy, and then the entire day is doomed.
For me, feeling pretty requires 1. mascara, 2. some concealer, 3. a real good bra. (Stretchy pants are optional.)
Here's the mascara I swear by.
Something like nine bucks and suddenly I have the patience of Mother Theresa? Count me in! Sometimes I wonder if this makes me the failure of the feminist movement. But then I think to myself, whateverrrrr. (Anyway, I betcha old Madeleine Albright had a weakness for mascara, too.)
So, what's your best parenting advice? Conversely-wise, what makes you feel pretty?