The Ridiculousness Of The First Time Mom
Natalie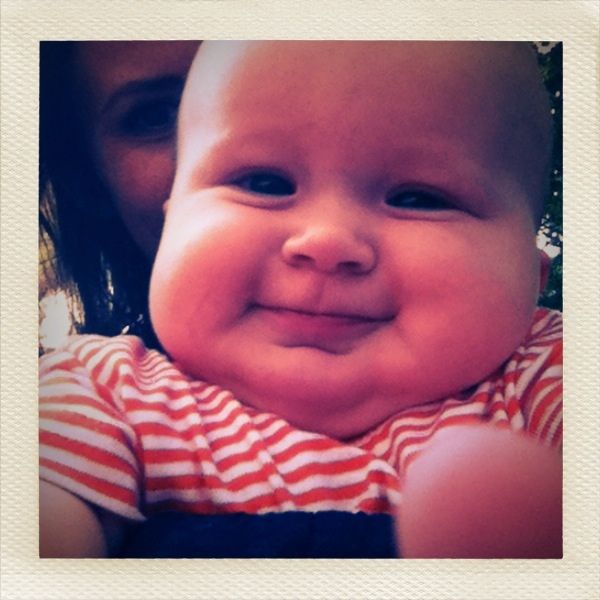 Woefully, it turns out I am a very cliched first time mom.
I know, I know! I mean, I grew up around a lot of babies, I know babies. I babysat a lot and I have younger siblings and I know the ins and outs of babyhood and infantness pretty well, but even then! Even then, all of this baby confidence hasn't spared me the humbling realization that I am, basically, the most pathetic of all creatures on this planet: the first time mom.
Hear me out, okay?
First of all, there's the sleeping thing. Oh, the sleeping thing. Sleeping is the kryptonite to the Superman mothering I pretend I can do. As good as I think I am and as confident as I feel, the sleeping thing undoes me. I second guess everything and I am pretty much convinced Huck will never take a nap in a situation not involving a stroller. I just can't imagine it! That's a classic first-timer move, right there. I mean, I'm pretty sure a second-time mom could stare down a crying baby at 2AM who is neither hungry nor in pain and let him fuss himself back to slumber, but not me. I hem and haw and want to comfort him and then talk myself out of it and then talk myself back into it and then finally I am feeding him and beating myself up about it and/or he has fallen back asleep and I'm all, "What? He knows how to fall asleep on his own? How did that happen?"
Secondly, there is the thing where I feel far too much pride in things that I have no business feeling pride in.
Take this lovely story: The other day, we had playgroup at a playground. Huck was sitting on the astroturf with his girlfriend Harper, sharing some pretzels, when Huck leaned over and plucked a tiny fragment of dried leaf from off the ground with his pincher fingers. And I gasped and turned to the other adults near me–Did you see that? Did you see that fine motor development? My child is a genius! To my credit I only thought that and did not say that out loud. Because, seriously.
An hour or so later as we were packing the kids up to go home (and Huck was by now shirtless, as it was hot out, and I was continuously controlling myself and not making a big fuss over how cute my fatty is without his shirt on–points for me for showing restraint), my Huck up and started gagging. Gagging! And yes, here is my first time mom moment, I totally froze.
"He's gagging!" I declared to my friend Jaime, who has three kids and was clearly the person in charge at the time.
"Uh, he is!" was her response.
"……." was my response.
Huck kept gagging but then looking fine, and then gagging again, and I kept looking around the playground like somebody ought to be giving me instructions.
"So . . . go for it!" Jaime said. And then I was all, "Oh yeah! Okay!" Like I needed permission? I think I did need permission?
I did the old finger swipe trick that I know very well (I am pretty sure I have singlehandedly saved at least two cousins and one sibling from choking hazards in my days), and what do you know! That tricky leaf fragment had somehow made its way into my baby's airway. And then, the swagger! Such satisfaction on my part! Because I saved him! Before I could stop myself I was splurting superlatives all over the place. I felt practically light headed with pride!
"Wow! Did you see that? I got it! And my kid has such control of his gag reflex! All that choking and no vomit! I'm so proud of him!"
Jaime looked at me sort of kindly-like and said, "Yeah, he did great!" but I could tell her heart wasn't in it. I mean, it was a first-time mom classic maneuver. Getting excited over a stellar gag reflex? Weird.
Anyway, we've all been a first time mom at one time or another. What have been your classic first time mom maneuvers?
Article Posted 5 years Ago