Wait, Can My Baby Eat That?
Natalie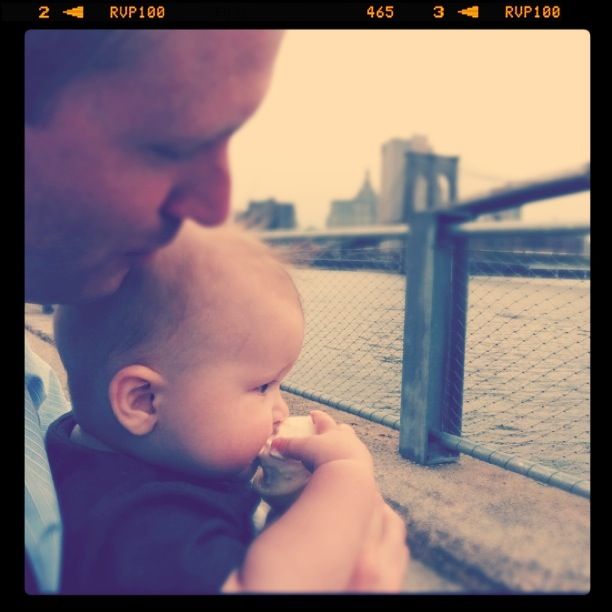 Depending on who you are, who your parents are, who you ask, and who your doctor is, the list of things your baby can and can't eat in his first year can vary dramatically.
Personally, I got tired of feeling like I was always breaking the food rules when I'd slip Huck some string cheese, so I cornered his pediatrician at our last check up to find out WHY? and BUT REALLY WHY? and also NO, BUT WHAT CAN HE REALLY NOT EAT?
Here is what I found out about the most common "do not eat" foods.
(After the jump.)
What's the deal? Cheese will make my baby sick? Well, unpasteurized cheese might. But out here, it seems unpasteurized cheese practically doesn't exist-you have to go well out of your way to find it. So go on with your bad stringy cheese self, and just keep an eye out for a lactose intolerance.
My doc's verdict: SAFE

Don't give your baby chocolate! Why? Well, because ideally, nobody should eat too much chocolate. Really, that's all there is to it. Just make sure he's eating a balanced diet before you offer the sweets, and then make it the dessert, not the main course.
My doc's verdict: SAFE

Citrus can be hard to digest. Ever down a glass of OJ first thing in the morning? Youch! In fact, citrus is one of the foods lactation consultants generally recommend you avoid while breast feeding, as it tends to cause an abundance of gas bubbles. So, eating citrus fruits isn't terrible. Just start slow, and maybe only offer orange pulp when baby already has something substantial in his stomach?
My doc's verdict: SAFE

Cow's (or Soy) Milk

4 of 9

What happens if your baby drinks cow's milk before he turns one? The same thing that could happen when he drinks cow's milk after he's one. He could be lactose intolerant. Okay, so... According to my pediatrician, if your family has a high rate of lactose intolerance, then you should avoid until baby's digestive system is a bit more mature. Otherwise, have at it. (Though, before one it's best to feed them breast milk or formula, and there's really no need for any other milk product.)
My doc's verdict: SAFE, BUT WHO CARES?

Okay, but yes, this one is the real deal. Honey contains the botulism bacteria, which can attack a baby's nervous system and cause death. So, for the first year, NO. No honey.
My doc's verdict: NO WAY, JOSE

This all comes down to a combination of food prep/salmonella risks and allergies. Do you have a history of egg white allergies in your family? If not, go ahead. (My pediatrician recommended scrambled eggs to us as an early food starting at six months.)
My doc's verdict: SAFE

Peanuts + Other Tree Nuts

7 of 9

Some doctors say wait until one year to try peanuts. Others even say two years! Still others say, ehhhh, whatever. In most cases, it comes down to your family history of peanut allergies. Definitely ask your own doctor. We're waiting until one year, but Huck routinely eats oatmeal that touches raw almonds (steel cut oats plus raw almonds equals amaaaaaziiiiing), and I'm generally unconcerned about it.
My doc's verdict: WAIT, TO BE SAFE

Huck's been eating strawberries since about nine months, when they finally came back in season. To this one, Huck's doc said, "Are you kidding? Strawberries are great!"
My doc's verdict: SAFE

Wheat can cause allergic reactions, so many doctors suggest waiting to introduce wheat products to your baby. Luckily, most recommend only waiting until 8 months. Because we delayed solids, this wasn't an issue for us. Again, my doctor says family issues win out on this one, and she stressed that the most important thing you can do for your baby during the early months of food tasting is to offer everything, but start slowly, and monitor closely for any possible allergic reaction. Your child could just as easily develop an allergy to pears, after all.
My doc's verdict: SAFE
So what about you? What foods do you avoid and what foods do you feed your babies anyway, even though you're (maybe?) not supposed to?
Article Posted 4 years Ago