What's The Big Deal Anyway?
Natalie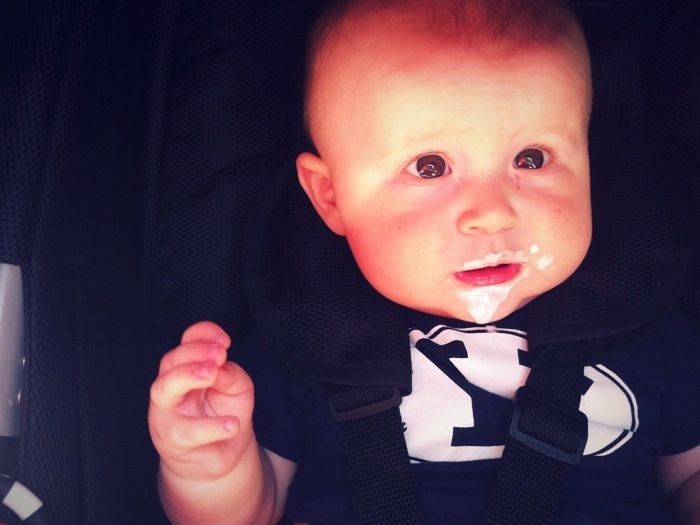 The other day Huck had his very first taste of ice cream cone, upon which time my husband declared, "THERE SHALL BE NO SUGAR FOR THIS CHILD UNTIL HE IS ONE!" I mean, I don't know where I get it, this feeling like he is too young to need to eat solids but not too young to be sampling whatever mushy substance I happen to be enjoying, but there it is. If I'm eating it and it's not too spicy/chunky/whathaveyou, Huck eats it. Well, he gets a bite.
Truthfully, Huck didn't really grasp the concept of ice cream all that well ("Cold? This is . . . cold?!?"), but it made me ponder my feelings on things, especially when family visiting from Arizona asked if they could hand him a chunk of crusty bread to gnaw on and I politely said no and then wondered, Am I being hypocritical? What is my parenting theory on foods these days anyway?
The thing is, I'm not really following any set idea on things. For a while I thought I was delaying solids, when actually it turns out I'm only really delaying structured solids, and not even on purpose really, more out of whateverness. For a while I thought I was against Crying It Out when I think maybe I'm just not all that interested in sleep training as a whole. I mean, last night my kid went to bed at 11, and the night before that he went to bed at 7. This isn't because I'm cruel, it's because I put him to bed when he is tired, and yesterday he had a nap at 5:30, so he wasn't tired till 11. Why did he have a nap at 5:30? Shouldn't I have made him wait and just put him to bed an hour earlier? Am I breaking all the rules? Maybe? But he wanted to nap and it was convenient for him to nap, so . . . he napped.
Also, I nurse my baby to sleep. Hi, my name is Natalie Holbrook and I don't make my kid self-soothe. Flog me all you want! We're not necessarily co-sleeping, but we do sleep in the same bed in the mornings when I nurse him until we both konk out and get another hour or two in. Sleeping till 9:30? Who wouldn't want that? He's not crawling yet, and apparently he should be crawling soon if he's going to be a good reader, but he's strong, and he's interested in things, and, honestly.
I asked my aunt, veteran mom of four really rad kids, how she handled sleep training and scheduled feedings and introducing solids last night over some really good pizza as my inner parenting doubt monster started swirling again and she just laughed. "Girl, I didn't have a schedule, are you kidding me? They slept when they were tired and ate when they were hungry. If we were running errands and they wanted to sleep, they slept! I think they were better babies for it." And then I let Huck lick my pizza crust.
Before Huck was born I listened to a lot of opinions about parenting, sleeping, and feeding. There are a lot of valid opinions out there, all wonderful and all leading to good ends, and I wondered which opinion I would adhere to. Well, it's taken me a good seven months to identify my parenting theory, which is that I have absolutely zero parenting theories. My baby may not be eating rice cereal and mashed peas followed by breastmilk and/or formula three times a day, but he is tasting ice cream and eating avocado wedges from my chef salad, and a bit of banana sometimes, and once a little sip of melted icy Diet Coke water from a straw. He naps in the stroller when we're scooting around town and sometimes even when we're just hanging out at home, because it's easy for me to get him to fall asleep in there. If his morning nap is at noon and he sleeps for just 20 minutes, I don't stress it anymore. As long as he's happy and well rested and healthy, what do I care anyway?
Maybe that is my parenting theory? Being a mom isn't just about adhering to a schedules, choosing cloth diapers or disposables, vaccinating or not, or making our own organic baby food or buying it in a jar from the store. We are here to love babies, cuddle babies, teach babies to feel confident and generous and kind, and then let them loose on society to bring about good things. Rice cereal or not, it all evens out, doesn't it though?
Who's with me on this?!?
6 Ways to Get a Baby Interested in Solid Foods!
Article Posted 5 years Ago