Like millions of American women (and Andy Samberg), I have complicated feelings about Martha Stewart. Her quest for housekeeping perfection: totally irritating. Her recipes: nearly idiot-proof. Her capabilities: inspiring. I hate to get heavy, but Martha makes us think about feminism: What does it say about us if our kitchen counters don't gleam and we didn't get around to putting up preserves this summer and we forgot to add a little baking soda to our toilet bowls? Let's set aside the philosophical debate and get concrete. What has always rocked about Martha is her stuff: In my experience as a consumer on this planet, many of her products are well-priced, durable, and of good quality, especially the ones for the kitchen. I don't want to share a cell with her, and I surely don't work for her or ever aspire to, but I honestly dig Martha's gear. Her collection at Macy's? Here are seven "good things" about it, the things I'd choose if I was ever making a "haul video" about Martha.
1. Cast iron enamel cookware: My Dutch ovens are of a certain high-end French manufacturer, and they're great for cooking all kinds of things and they're indestructible. But I look on with envy at Martha's line, which is about half the price and includes every single feature of the French version. Are they knock-offs? Who cares?
2. Fluted cake pan: Otherwise known as a "bundt" pan, Martha's nonstick version is nearly scratch-proof (important, because sometimes those cakes in particular need a little help getting out of the pan), suitably hefty, and only $15. Bundts are a hug in a pan, as I  have long posited, so you need a good one.
3. Kitchen towels: Back a decade when Martha had an exclusive product deal with K-Mart, I was buying her kitchen towels because they were so much more likely to survive the kind of abuse I put mine through than the fancier versions. These are solid-colored, sturdy, and workmanlike.
4. Multi-color melamine bowl set:  I like the retro vibe of these graduated bowls; they remind me of the mixing bowls my grandmother had (my Mema always used a yellow melamine bowl to mix her mandel brot dough), my kids like to use them because they're so cheerful-looking, and they're always dropping on my kitchen floor and not breaking.
5. Wooden French rolling pin: It took me years to realize the beauty of the light, tapered, French-style rolling pins. This is probably because they're hard to find outside of specialty baking stores, and they can be expensive. Martha's is $12, and at Macy's.
6. Over-the-sink cutting board with colander: I hull a lot of strawberries in particular and wash and trim a lot of fruit in general (for kids), and this tool lets me do it while minimizing dishes and counter space. Score.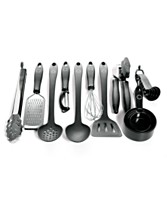 7. 17 piece gadget set: My husband, a pizza maker, has actually said the words "I love kitchen gadgets" out loud. These are for him: The set is durable, useful, and completely, well, complete.