The Perfect Baked Potato: Monday's Guilty Pleasure
Kelly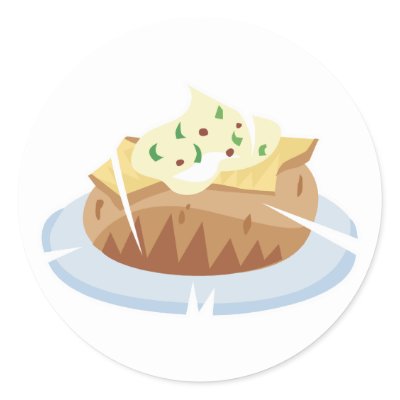 Mary Frances Kennedy Fisher (1908-1922) wrote numerous essays, almost all of them about food, and the one that stands out to me above the others is called "Borderland." It's because it's about guilty pleasures. "Almost every person has something secret he likes to eat," she begins, and then goes on to reveal that for her this item is small sections of tangerine that she painstakingly dries out until they are crackling by placing them on a newspaper which has been spread out on the top of a radiator. "Perhaps it is that little shell, thin as one layer of enamel on a Chinese bowl, that crackles so tinily, so ultimately under your teeth," she writes. My own item is baked potatoes. When I was growing up, there was a chain restaurant called Danvers that we would go to; it had an enormous salad bar, and you could get a baked potato and put whatever you wanted on it. The potatoes were huge and soft and their skins were rubbed with coarse salt, and I loaded mine up with scallions and cheddar cheese and real bacon pieces. It was heaven, a steamy, creamy treat that I craved. It was a hunger that stuck: When I was in college, my dorm had "baked potato bar" every so often, and I managed to convince the cafeteria ladies to call me in my room to make sure I didn't miss it. (And they did!) On a Monday morning, when I'm flush with work and both of my boys are off to camp and preschool respectively, and my thoughts turn to the most important decision I have to make for the next four hours — what to have for lunch? — and I have spent the weekend watching the World Cup and feeding friends and schlepping to the swimming pool and washing towels and cleaning the lint out of my dryer….well, all I want is a baked potato. When I bake potatoes, I feel like I"m doing something really, really nice for myself, and I take care. I like to think I've perfected the seemingly simple art of making them, and here's how I do it:
Russets are nice and starchy and when they're baked their flesh gets flaky and tender, which is what you want in a baked potato. Save those buttery Yukon golds, which admittedly have a more complex and interesting flavor, for potato salad. Get an old fashioned russet, a really hefty one with no blemishes or bruises or sprouts. Rinse it very well under cold water and scrub it clean of dirt. Dry it well with a clean kitchen towel. Pierce it with the tip of a sharp knife or the tines of a fork; I always do it nine times (hey, it's my ritual) so that steam can escape and the potato doesn't explode. Coat the potato in a little olive oil and roll it in a little salt. Bake at 350 for an hour. Test for doneness by gently squeezing the potato's sides; it should yield nicely to the touch. Let the potato rest for five minutes. Some people like to wrap their potatoes in foil; I feel it steams them and ruins the crunchy skin if I'm eating them immediately so I don't do it unless I'm planning to save the potato for later (in which case I'll unwrap them and give them a few minutes in a hot oven to re-crisp). You can put whatever you like on your baked potato but I always go for butter and sour cream, lots of salt and pepper, and sometimes some scallions, some cheese — leftover brisket is an especially excellent addition, and so are fresh herbs, but these aren't standards for me.
People make baked potatoes in the microwave because they think it saves time but they miss the point: How easy is it to toss one in the oven and move on? You do have to have a spare hour, I grant you that, but a baked potato is a serious convenience food. And you can make a whole bunch at once. And I heard that some people even bring them to soccer games, and either eat them or use them as weapons. I'd be happy if someone threw one my way, of course.
Photo credit: zazzle.
Article Posted 6 years Ago