Best Picture 2011: "The King's Speech" Takes Biggest Award
Natalie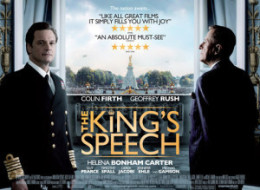 On Sunday night, both producers and cast members took the stage at the 83rd Annual Academy Awards in Los Angeles to accept the award for Best Picture of the Year for The King's Speech.
The King's Speech is a World War II-set drama about friendship, trust and overcoming the odds. It beat out nine other films. This is the first time the Academy has awarded a film about British Royalty the top slot.
Overall, The King's Speech took home four Oscars.
The movie also won the directing prize for Tom Hooper, and David Seidler won for original-screenplay. Seidler, a boyhood stutterer himself, dedicated the award to all the stutterers around the world.
Colin Firth, who also won for Best Actor, starred as King George VI; the stuttering King of England who had to overcome his speech impediment to deliver a speech and inspire the country as Nazi bombs rained upon them. After receiving the award, Colin Firth said: "I have a feeling my career's just peaked…I'm afraid I have to warn you that I'm experiencing stirrings somewhere in the upper abdominals which are threatening to form themselves into dance moves."
Did you like The King's Speech? Was it worthy of Best Picture?
Article Posted 5 years Ago