Kellie Pickler on Ellen: Why She Chose To Elope (VIDEO)
Natalie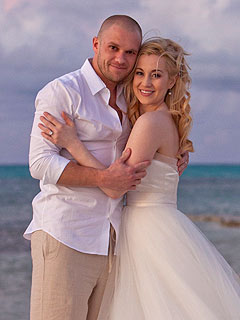 The super sweet and perky Kellie Pickler talked to Ellen DeGeneres today about why she and her fiance decided to elope instead of having a big wedding.
The 24-year-old singer eloped in the Caribbean on a private island last month with songwriter Kyle Jacobs. "It was the most incredible day of my life," she told  Ellen DeGeneres.
She also said that it was finally the wedding guest list that pushed her over the edge and made her decide to elope. "We were almost finished with planning, we had already done the cake and the flowers and all that…And every time we got to the guest list, it was like, 'Oh my God, I hate half these people!'"
Kellie also has a great sense of humor; she told Ellen that she had the wedding date inscribed inside of her husband's wedding ring along with the words, Put it back on. "So if he takes it off and he looks at it, it's going to say, 'Put it back on.'"
For more of her chat with Ellen, you can check out the video below.
Photo: People.com
Article Posted 5 years Ago