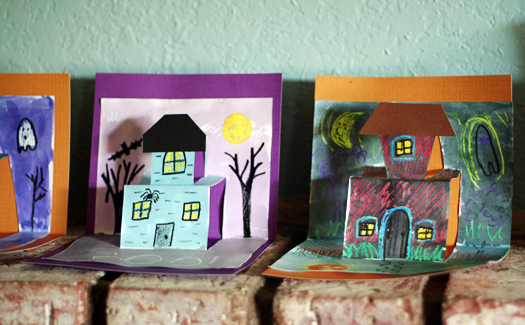 Are you a room mom (or dad) this year? Are you in charge of planning your child's Halloween classroom party?
I am. I've been asked to come up with a craft for my 3rd grader's class. And 3rd graders can be hard to please. They are at that age when cutsie isn't so cute anymore. So I've put on my "linking" cap and found something that is sure to be a hit: these Spooky Pop-Up Haunted Houses pictured above, perfect for a 10 minute craft activity.
Or here are 25 more ideas that are sure to be a hit with almost any age or grade. There's ideas for crafts, activities, and treats! Read on…
nggallery id='125752′

Get creative with more spirited Halloween games and DIY party favors!
Read more of Marie's posts at Make and Takes
And don't miss a post by following Marie on Twitter and Facebook.