25 Halloween Classroom Party Ideas
Facebook
Twitter
Google+
Tumblr
Pinterest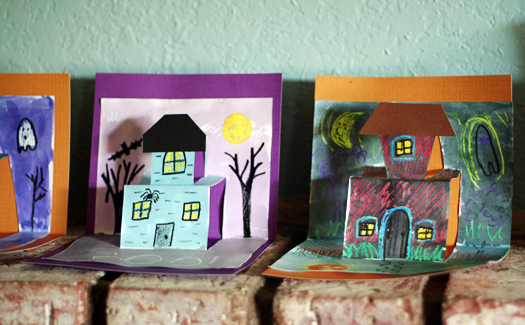 Are you a room mom (or dad) this year? Are you in charge of planning your child's Halloween classroom party?
I am. I've been asked to come up with a craft for my 3rd grader's class. And 3rd graders can be hard to please. They are at that age when cutsie isn't so cute anymore. So I've put on my "linking" cap and found something that is sure to be a hit: these Spooky Pop-Up Haunted Houses pictured above, perfect for a 10 minute craft activity.
Or here are 25 more ideas that are sure to be a hit with almost any age or grade. There's ideas for crafts, activities, and treats! Read on…
Halloween Paper Finger Puppets

1 of 26

Paper Bat Pumpkins

2 of 26

Halloween Treat Bags

3 of 26

Paper Bag Halloween Puppets

4 of 26

Pin the Face on the Pumpkin

5 of 26

Spookey Ghost and Spider Hats

6 of 26

Halloween Coloring Pages

7 of 26

Glitter Sticker Pumpkins

9 of 26

Glow in the Dark Spider Balls

10 of 26

Mini Yarn Witch Brooms

11 of 26

Fun Button Pumpkins

12 of 26

Halloween Paper Dolls

13 of 26

Chocolate Candy Witch Brooms

14 of 26

Halloween Party Science Station

15 of 26

Pasta Skeleton Craft

16 of 26

Halloween Games for Kids

17 of 26

Mix and Match Pumpkin Faces

18 of 26

Witch's Stew Game

19 of 26

Match the Jack o' Lantern Game

20 of 26

Halloween Carnival Can Toss

21 of 26

Click for the full tutorial from

Kidzui.

Bat Shaped Party Cones

22 of 26

Frankenstein Noise Maker

23 of 26

Click for the full tutorial from

Parents.

Halloween Playdough Party Favor

24 of 26

Googly Eyed Green Blobs

25 of 26

Haunted House Pop Up Cards

26 of 26
Get creative with more spirited Halloween games and DIY party favors!
Read more of Marie's posts at Make and Takes
And don't miss a post by following Marie on Twitter and Facebook.