I have a secret cleaning weapon that is a cost saver and is eco-friendly. It's hands down my favorite tool for cleaning my home and for use during DIY projects. Want in on my secret?
Home Depot sells these giant packs of 24 blue microfiber cloths for about $10. The pack will last you about two years in my experience and I've noticed that I'm buying about 1/4 the amount of paper towels that I used to. That is real cost savings and super environmentally friendly! I've tried other microfiber towels before, but I always come back to these. Not too thick, not too thin. Just the right size (bigger than a washcloth, but not as big as a hand towel).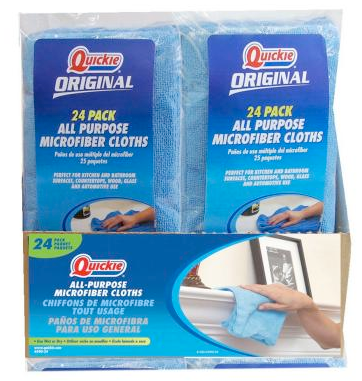 I use them for washing windows and mirrors, dusting, quick floor wipe-downs, mopping up spills, cleaning counters in the kitchen, cleaning my bathroom top to bottom, and wiping down the upholstery of my sofas (after spraying with Folex!)
They hold up to washing (and drying in the dryer!) really well. They're always good as new after a washing. If we had more room in our apartment, I'd buy two or three of these packs to last me through the end of the decade.
Enjoy!
Article Posted 4 years Ago