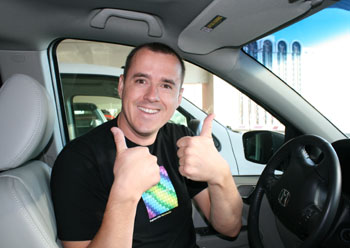 We LOVE going on road trips! We pile everything and everyone in the car, make sure we've got some snacks, and we're off.
We head to a beach house, camping trip, even 12 hours to Grandma's house.
But all the while, it's quality family time. Yes, we live in a digital world. So there is time we let them watch a movie or two (sometimes three). But for the most part, we're playing car games, listening to a book on tape, or singing our hearts out.
These are the times when taking video of the family is the best. We're all at our most raw, off the cuff, memory making moments. We'll go back and watch video from some of our road trips and pat ourselves on the back for getting out the video camera. Although we usually keep our video camera pretty handy knowing the kids will end up doing something silly or cute.
And we always have to film that classic shot of the driver. Every time!!
What do you love about road trips? What fun memories do you have from your family getting in the car and heading out on the road?
A big thanks to Sony for sponsoring this campaign. Click here to see more of the discussion.
Want to capture your own family memories on video? We're giving away two Sony Handycams! To enter for a chance to win, simply comment on this post with an answer to the following question: what's your favorite family memory?
Want a chance to win weekly prizes like a Sony Handycam or a $200 Disney shopping card? Enter to win here!
Article Posted 4 years Ago