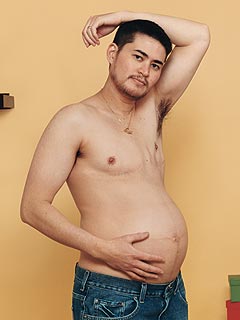 Two years ago, the world (and Oprah) was introduced to Thomas Beatie, the former woman who became the first known transgendered man to give birth. Now Mr. Beatie and wife Nancy have a third bun in the oven.
In case you were wondering why wife Nancy hasn't taken a turn at the mothering post, she is unable to have children due to hysterectomy.
Beatie, born a woman, underwent sex change surgery and reassignment therapy while opting to keep his female reproductive organs.
Just last month, California Scott Moore became the world's second known transgender pregnant man.
Could Beatie have opened doors to the transgender community?
Source: People and The New York Daily News
Find more of Cole's writing at Fun with Cole
Babble Links:
Another Pregnant Man Prepares for Birth
The Secret Lives of 4 Famous Children's Authors
Mother Commits Suicide after Blog Comments, Son's Choking Game Death
Girl with 8 Limbs Starts School
Mother Tries to Trade 2-Year-Old Daughter for a Gun
RECALL ALERT: Tylenol Dramatically Expands Recall, More Children's Meds on the List
Article Posted 6 years Ago