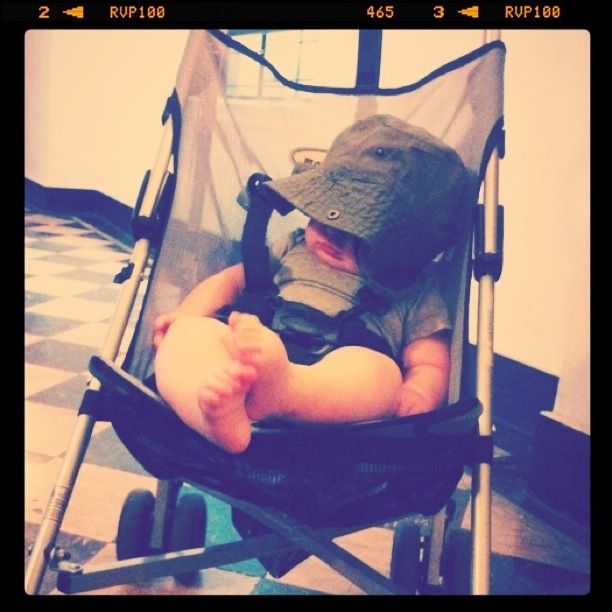 So it turns out I am fairly sure that what I thought was a tummy bug may actually have been a simple case of overheated baby. (Maybe tummy-to-tummy in a front pack all over New York City on the first sweltering, humid day of the summer isn't the smartest idea, for future reference.) When Huck showed a voracious appetite just three hours later and managed to keep everything down, and then carried on as if nothing had happened, I had to sort of go, "huh," if you know what I mean.
Suddenly I am presented with quite the challenge. If we lived in the suburbs I imagine it would be fairly easy to keep a baby cool. Basically my life would consist of going from the air conditioned house to the air conditioned car to the air conditioned (and heavenly!) Target, yes? But here we go from the swamp-coolered apartment to the grimy, steamy streets to our sometimes air conditioned (but not usually) destinations.
I've gotten used to the horrible nastiness of New York in the summer (I even survived it pregnant without an air conditioner!), but my little blob of adorableness, well he isn't quite there yet.
So what's a mama to do, you are asking yourself? Dude, really. What am I going to do? My plan of attack so far after the jump (and I could really use your ideas)!

This little beauty is currently winging its way to my humble palace of tiny wonders thanks to two-day shipping from Amazon. When I asked all of my friends how they kept their kids cool during the awful summers, this was the first thing they recommended. Clip it to the sunshade of the stroller and let it whir. The foam blades are soft on curious baby fingers, and they say the breeze it generates is pretty darn strong for such a little guy. Plus it's something stupid like ten bucks. For ten bucks, I'll try anything.
#2 02 Cool Deluxe Water Misting Fan
That's a lot of words for what is, essentially, a spray bottle with a fan. We tried it out on our sticky walk through Central Park this evening and I have to say, while it's not the perfect solution, it's close enough. It feels really good on the back of the neck, I tell you what.
#3 Good Old Fashioned Water
I happened on a genius idea today after recalling an article I read during last year's NYC heat wave. The journalist interviewed an outdoor newsstand worker, who admitted he'd survived the heat wave by buying frozen water bottles from his own inventory and putting them down his pants and up his shirt. Right? Pretty brilliant. So my plan is to buy two bottles on long outings and stash them on the left and right sides of my baby's pudgy self in his stroller. Like turning your stroller into a giant cooler! Luckily, we can also drink the water. I know, I'm blowing your minds with this one.
#4 Strollers with Giant Sun Canopies
This is my stroller, it's a
First Year's Wave
and I really like it. You can go off-roading through Central Park and feel like you're floating on air! But what I like best is that giant sun canopy. It's huge! For long outings, we're taking the big mama stroller and yanking that canopy down all the way. My only issue here is the black fabric seat. I'm not certain it's terribly breathable, that black fabric seat, and the Bugaboo insert was $50 (i.e. not gonna happen). Ideas??
#5 Strollers with Mesh Backs
I recently inherited a
Maclaren Volo
and it is going to be my Ergo replacement this summer. Dude, Ergo no go in the summer. Yikes. This sucker is lighter than clouds, super easy to fold for the subway, and the seat is entirely made of mesh! Holy breathable fabric, Batman! Except mine is pre-2004 and doesn't come with a sun shade. So where does that leave me, I wonder? I've hunted around the universe for a sun shade for this sucker without luck. Anybody have any ideas? In the meantime, I'll be using . . .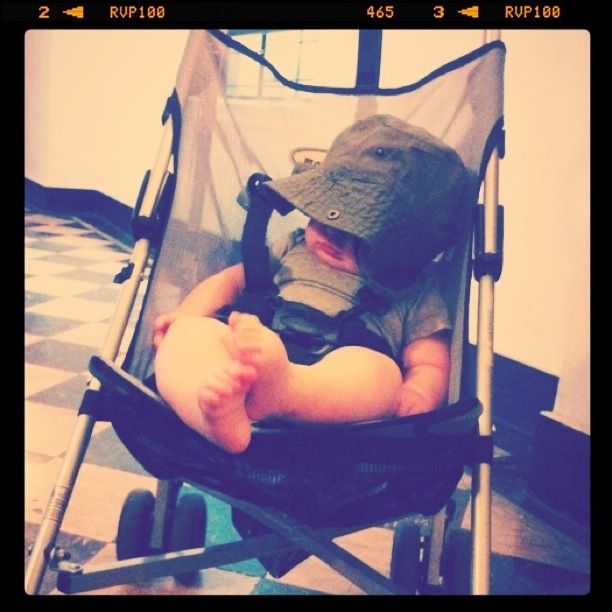 #6 Sun Hats (and Sunblock, not pictured) (also not pictured, his sandals, which I put on once we got in the elevator, for those of you who care deeply about such things)
I scored Huck this really rad sun hat from H&M last month. Army green, floppy, it's got it all. Luckily, Huck isn't to the stage yet where wearing hats is torture and/or taking them off is the greatest thing ever. We'll see how long this lasts. (For sunblock we're using an SPF 50 spray-on dealie from Trader Joe's.)
With the proper sun care, clothes are optional, right? That's my summer motto, anyway. These onesies is as close as you can get to naked while still preserving some sense of parenting dignity. Plus, these are DANG CUTE. You should see my kid's fat muscles in these. Like the Michelin Man, for real. Pair them with some 
cotton shorts
from the Gap? Done.
Well. I think, with some good luck and a little planning and lots of loose change for cold bottles of water from the newsstands, we'll be just fine this summer. At least we'll avoid any more heat related vomiting! I mean, good gravy.
Article Posted 5 years Ago