5 Busy Mom Beauty Tips, Courtesy Of Me
Natalie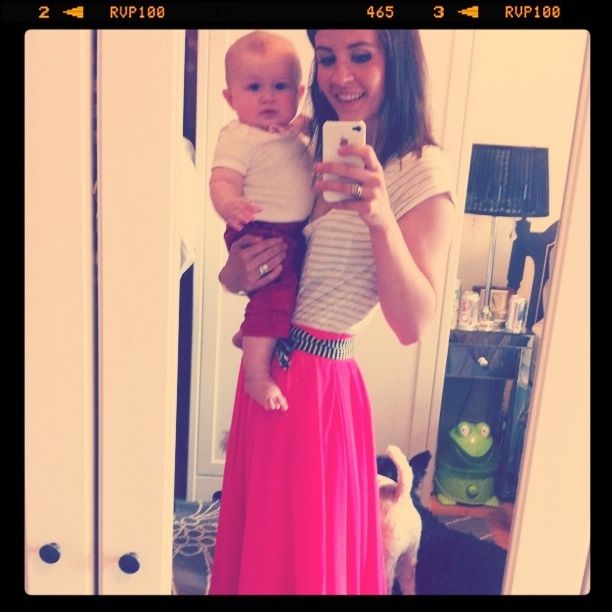 A few weeks ago, Babble did a little piece on beauty tips for busy moms. I read it feverishly because I have a bottomless appetite for beauty editorials. Basically, I remain convinced that just the right beauty routine will elevate me to Gwyneth Paltrow level amazingness, and then I will simply float down the street on my awesomeness cloud of flawless skin and/or the perfect winged eyeliner.
Being a mom has only exacerbated the issue, because now that I am somebody's mother I have this bizarre feeling like maybe I deserve nicer creams and potions and mascaras than I did before. Something like, now I'm a mom, it's all downhill from here? My skin needs extra help? Or, now I'm a mom, which makes me a real adult, so I deserve to be an adult with my skin care routine.
Bear with me, I haven't really figured it out in my head just yet.
Whatever the case, I've given it some real deep thought, and I've come up with my very own busy mom beauty tips. Five of them! After the jump!
1. Hair and Make Up First. FIRST!

1 of 5

Whatever product I'm testing or reverting back to or whatever have you, I've discovered this one trick can make or beak me: I get ready first. ME. Before Huck gets dressed. Before the dogs get walked. Before the emails get answered. Before the morning nap gets napped. ME, BABY! I get ready first so that I know I've gotten ready and so I don't have to try and make time for it later. Know who has time for it later? Nobody.

I swear by the Graco Bumper Jumper to get this done. (Huck always gets fussy by the time I am doing my mascara, isn't that strange?)

2. Benefit Erase Paste

2 of 5

You ever find a product that is so transformative you actually get excited to put it on? I feel this way about my concealer. Generally, concealer isn't terribly glamorous, but whatever, I love this concealer. It's goopy and thick and sort of the consistency of Elmer's Glue but it does the trick and I love it major big time. Real good on baggy saggy elephant eyes, not so hot on pimples.

3. Shower at Night

3 of 5

I know a lot of people get a really inflated sense of pride in themselves when they have a baby and still manage a morning shower every day, because showering when you're the only adult at home and there's a smallish person who may or may not let you get your hair totally rinsed out is a super stressful endeavor. I say save yourself the trouble of needing to feel good about a shower and just get it in at night after the baby is asleep. I like a l o n g. h o t . s h o w e r, I don't have the emotional wherewithal to race against a baby's ability to entertain himself. So, night showers. Then, in the morning, it's a direct shot from eyelash curling to curling iron to curling up on the couch to catch the tail end of your Baby's morning nap. Synchronized morning naps are where it's at, much more important than morning showering, let's be real.

4. Tinted Moisturizer

4 of 5

Whatever did we do before tinted moisturizer? Wear foundation?!? My make up routine goes 1. tinted moisturizer, 2. eyebrows, 3. concealer, 4. bronzer, 5. mascara 6. blush 7. straighten my hair with the hair straightener doohickey. By step four I am singing every nursery rhyme I ever knew, so let's just say my hair isn't usually all that straight. But you should see my eyebrows! Talk about groomed! Anyway, what was my point? Oh yeah. I like Kiehls Ultra Facial Tinted Moisturizer in medium. I mix it with their regular moisturizer, it seems to apply smoother that way.

5. Saturday Manicure

5 of 5

Nothing makes diaper changes more swanky than a flashy polish job, and nothing says "I might be a mom but I'm still with it" than obscenely trendy nails. Thus, Saturday nights are my "polish nights." Stream something brainless on Netflix and then get to it. I've always loved Essie's colors (and the more OCD side of me loves to see all those little square bottles all lined up next to each other), but I've heard the Sally Hansen No Chip lines are rock solid. These days I like a good Highlighter Yellow polish job. Cheerful! In any case, invest in Essie's Good To Go fast drying top coat. You're dry in, like, under four minutes and I do mean DRY dry. You know, cause once you've got your nails wet you KNOW your baby is going to wake up and want to nurse. That's just logic.
Find the Graco Bumper Jumper here.
Find Benefit Erase Paste here.
Find Kiehls Ultra Facial Tinted Moisturizer here.
Find Essie's Good To Go here.
Okay! What are your best busy mom beauty tips?
Article Posted 5 years Ago