Freedom Boobs! Day Three!
Natalie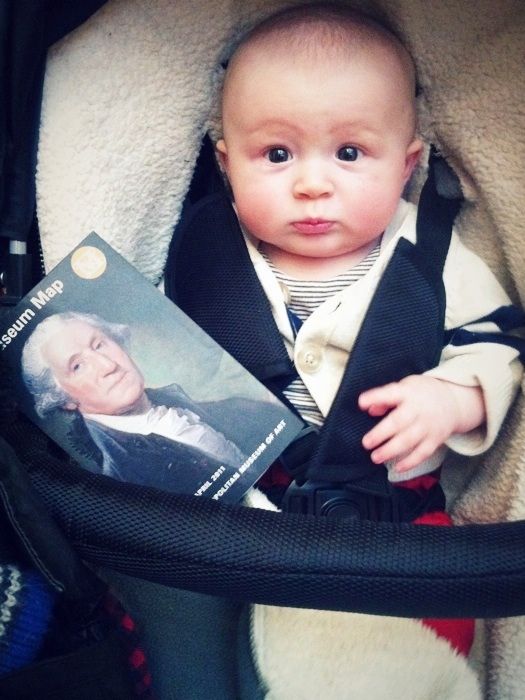 By far, my favorite place to nurse these days is the Metropolitan Museum of Art.
It is quiet, there are plenty of benches, good people watching, and pleasant things to look at. Fine dining!
I attempted the classic "nursing while walking and pushing a stroller" maneuver for the first time at the Met (the day I truly became a woman), and once spent a very nice couple of minutes with Huck under a boob cape in front of a lovely Renoir (where a woman with a thick Italian accent asked me, "such a pretty cloth, but why do you use it?").
So I figured, no week of public nursing would be complete without some public nursing at my old pal, the Met, am I right or am I right?
After yesterday's momentary panic at the Borders, nursing in public has been a breeze. I've nursed in front of friends, in front of friend's babies, and even in a moving cab (no seat belt requirements in NYC, furthering my theory that NYC is not really America).
Nursing at the Met was no different. Easy on, easy off, good people watching, and you know now that I think about it, an alarmingly high percentage of patrons of the Met are tourists from Europe, so maybe this one doesn't even really count?
NURSING TIP OF THE DAY: VISUALIZE YOUR LATCH. They tell me football players and other athletes use "visualization" as part of their training. "Visualize the end zone!" That sort of thing. (I wouldn't know, "athlete" and "Natalie" are two words that do not belong.) One thing that helped improve our public nursing tenfold was when I started "visualizing" the perfect latch. I'd get everything situated with one hand under my shirt so we were cocked and loaded, and then I'd quickly imagine the perfect scenario: baby in place, shirt goes up, baby goes on, done and done. Not surprisingly, latchings seemed to go on quite effortlessly after a few seconds of contemplation. Try it! Tell me how it goes!
Check out Babble's winning list of Best Maternity Bras to help you keep your eye on the prize.
Article Posted 5 years Ago