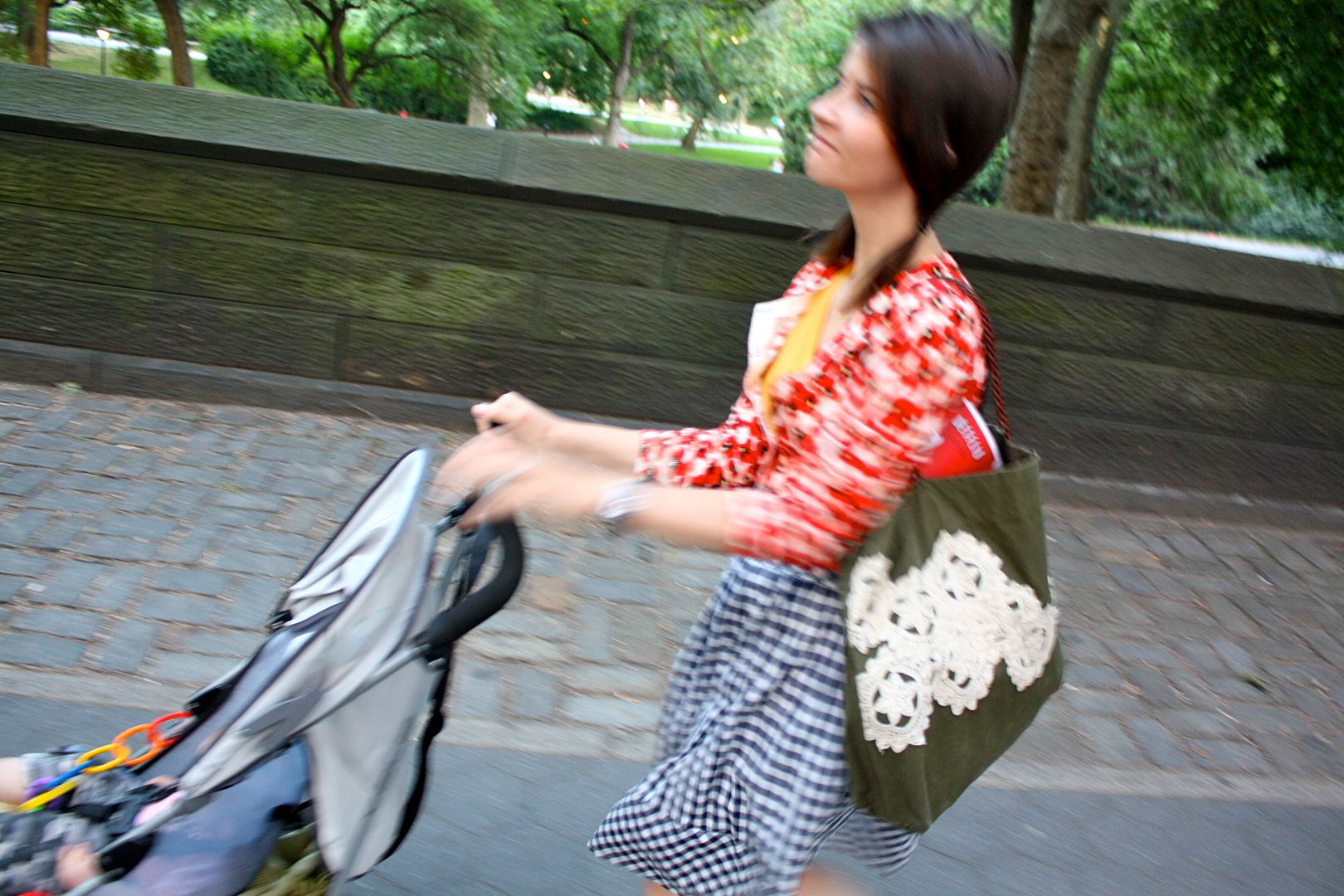 One of the favored topics among the moms at my playgroup is strollers. Double strollers, single strollers, umbrella strollers, storage in strollers and sun shades on strollers and the benefits of air tires vs. foam tires on strollers, you can go on and on for days about a stroller, it is just the neatest topic ever, a never ending treasure trove of conversational amazingness, one lady I know even put together a spread sheet comparing and contrasting different double strollers.
Strollers!
Most of the moms in my play group have two kids, some even three (some even four!), and all of us have some hefty sort of stroller that can carry all the kids, plus their gear, their snacks, your snacks, all the groceries you are hauling everyone out of the apartment to go buy, and of course, their scooters (preferred method of transportation for the over-2 crowd). Don't forget your weather-appropriate stroller gear, either (plastic covers for the rain/snow, foot muffs for the blistering cold of winter, clip-on battery-powered fans for the heat of summer).
One thing we talk about often is stroller rage. Have you ever experienced stroller rage? Living in the city and navigating the busy sidewalks with a stroller the size of an SUV is basically a recipe for stroller rage. If you can avoid it you are an angel and let me tell you, I do not know any angels.
After the jump, stroller rage and my take on stroller etiquette in the city, in case you've ever wondered about such a thing.
Stroller rage can be defined as the intense desire to shove your stroller into the slow-moving people in your way. Stroller rage can also be defined as the smug feeling of superiority one gets when a man or woman (usually a man) opens a door in front of you and then lets it shut squarely in your face rather than keep it open for you when you clearly (clearly!) have no free hands and also need to be exiting the building.
Stroller rage is not a terribly attractive thing but then no human emotion really is when you stop to think about it.
A lesser-known aspect of stroller rage is when you are the one with the stroller but it is those around you with the inexplicable desire to cause bodily harm. You've all been there: you are doing your best to be an upright citizen and watch for toes and yet someone still insists on feeling insulted that you and your stroller even exist at all.
A prime example of this happened when I was about to get on the subway with my stroller and the woman in the doorway said to me, "Move yo big ass stroller out the way!" and I said back to her (very softly under my breath), Move your big ass ass out the way! and then felt an incredible rush of adrenaline and/or that I was about to receive the biggest smack-down ever of my life.
When I am pushing the stroller and my husband is around, I am all the more aware of the weird rules of etiquette that seem to exist for strolling mamas. There seems to be a certain kind of shake-down:
The mama with a stroller has the right of way when encountering a single man on the sidewalk.
The mama with a stroller has the right of way when encountering a single woman on the sidewalk.
The mama with a stroller has the right of way when encountering a single man or woman with a dog on the sidewalk.
The mama with a stroller gives up the right of way when encountering a dog walker carrying more than four (4) leashes with dogs attached.
The mama with a stroller may or may not have the right of way when encountering a couple on their way to a date on the sidewalk, depending on heel height and fanciness of dress.
The mama with a stroller does not have the right of way when encountering the elderly on the sidewalk, unless the elderly is able-bodied and grants right of way by stepping to the side.
The mama with a stroller definitely has right of way when encountering a gaggle of school-aged children and you BETTER move out of the way or I will box your ears in (in my head only–can you imagine the lawsuit??).
The mama with a stroller gives up the right of way to another mama with a stroller in the event that she has more children on her than you.
The mama with a stroller gets terribly confused when encountering another mama with a stroller, and generally whomever has the youngest baby wins the sidewalk, or alternatively, you can sometimes play a game of chicken and just see who moves out of the way first. (Never me, for I have no fear.)
And now, a slideshow of the amazing mamas (and papas) I know and their impossible strollers beating impossible stroller odds:
Huck aged two days. I was SO SORE at the time of this photo.

MY STROLLER, WINTERIZED

2 of 8

My husband, also winterized.

MY STROLLER, ON THE SUBWAY

3 of 8

This is pretty exciting stuff, isn't it?

THE UMBRELLA STROLLER

4 of 8

We inherited an umbrella stroller for summertime strolling and we love it. It has zero shocks and you can't take it grocery shopping, but, you know.

STROLLER TOYS–NECESSARY?

5 of 8

The little links are good for when Huck feels like tossing Pooh overboard and letting him get filthy with street on our walks. I'm starting to question the necessity for stroller toys, to be honest.

This is my best girl Elise and her double stroller in the middle of a blizzard. Two of her kids are in the stroller under the rain guard, her third is strapped to her chest (her third also weighed very near 20lbs at the time of this photo). Every time I see this picture I have to laugh. People. This is nuts.

Of this pack of adorable children, only three belong to Jaime (the twins in the stroller and the taller of the three boys on the ride board). The other three belong to my friends Janelle and Erin. For those keeping score, there are two kids in the seats and three kids on the ride board (and yes, one on foot).

BONUS CRAZY PERSON STROLLER

8 of 8

Because, you know, sometimes you need a stroller for your puppy and all his accessories.
So tell me about it, stud. Stroller etiquette in the 'burbs. Does it exist?
Article Posted 5 years Ago