Hey! That's Not What That's For! (The Most Frequently Abused Baby Gear In The World)
Natalie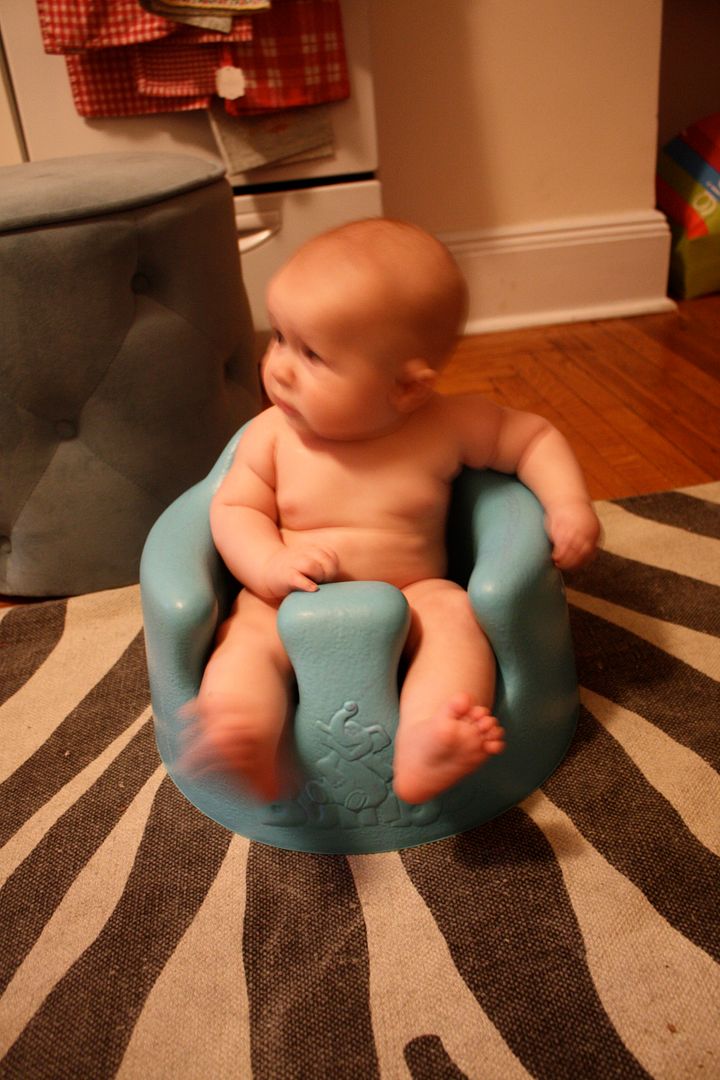 It never fails: you set your baby down with a bunch of suuuuper exiting toys and he spends his afternoon obsessively analyzing the cord to your laptop charger that's haphazardly strewn across the floor instead.
It's the whole "the box is always more interesting than the toy that comes inside it" routine. We all know it.
But I've been thinking about it and it's not just babies that do this–I mean, we do it as parents too, constantly.
After the jump–the most frequently abused baby gear in the world. Doesn't that sound fascinating?
Do you have a Boppy? Chances are, you have a Boppy. The Boppy was intended as a nursing pillow, but how many of us actually use our Boppys as nursing pillows? More than likely you use it for tummy time, assisted sitting when they're not quite stable, a pillow to nap on when the baby is sleeping and you are too lazy to get up off the couch and go lay down in your own bed . . . you know what I'm talking about. What else do you use your Boppy for?

REPLACEMENT HIGH CHAIR

2 of 7

How funny is the word "Bumbo?" Almost as funny as "Boppy?" I remember when Bumbos first came on the market and thinking, 'really?" but then someone came up with the genius idea to use the Boppy as a replacement high chair (whoever that was deserves a pat on the back), and now you can actually purchase a tray accessory for the Bumbo. In this way, the Bumbo may actually be an example of Baby Gear Darwinism (you know, if you believe such things exist).

Pacifiers. Meant to soothe a baby to sleep, give your poor boobas a break when you know they're not really hungry . . . or, maybe some fine motor skills development? For my kid, the pacifier is all about the fascination of passing a small, detailed object from one hand to the next. "This is cool in my left hand! Wow! It is still cool in right hand!" Pacifiers are also good as a tool for taking out your frustrations on life. Give it a good gnaw while making angry pirate faces, then toss it to the floor forcefully--feels good to get out some aggression, eh Huck?

When I was pregnant I received a lot of baby blankets as gifts, but I've found that most of them are too fluffy or bulky or small to use as actual wrapping or swaddling blankets. But then my kid started to sit up in a very wobbly-type way and I realized the genius behind these cloud-like cloths: Head Protection. Lay five, six, seven of them on the hardwoods in a pile, set your kid on top, then add a whole bunch anywhere you could imagine your kid face planting. When the floor calls to your kid's noggin and he topples over into his Princess And The Pea style getup, guaranteed it's gonna hurt a whole lot less.

Best. Toy. Ever.

CLEAN CLOTHES STORAGE

6 of 7

It never fails, you picked out the perfect crib and now your kid won't sleep in it . . .

. . . CAUSE HE'S SLEEPING HERE INSTEAD

7 of 7

What's up with that, anyway?
Your turn!
Article Posted 5 years Ago