My Worst Nightmare As A Parent!
Natalie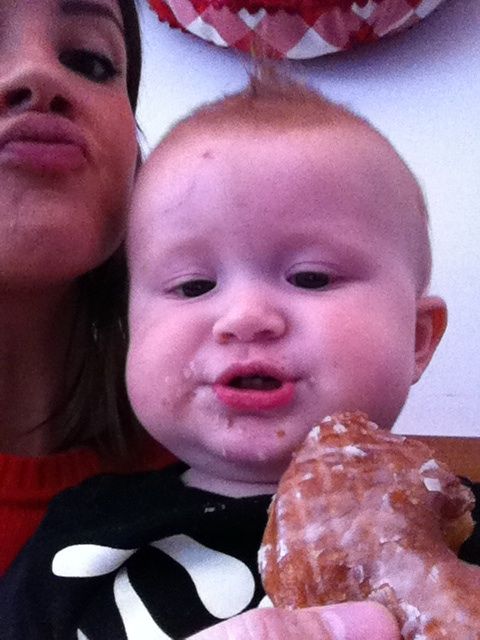 So. It's a cold, drizzly night. A guy and a girl are all alone. AND THEN THERE WAS A HOOK IN THE CAR DOOR!
Does anybody know how that story actually goes? Anyway, that's not my nightmare as a parent. My nightmare as a parent is choking. And also vomit. And then when you combine choking with gagging with vomit? Yep, punch my ticket, I'm done.
The other day Huck done up and choked on a Cheerio. A Cheerio! The most baby-friendly food in existence! He wasn't really choking, okay, he was gagging. It was stuck just-so, and I was remembering what I had read before about choking and gagging and when to intervene and when not to intervene . . .
(after the jump)
I read that you should always interfere when there is choking and your baby cannot breathe. ALWAYS. But that when he can breathe and he is just gagging a little because the food is in a weird spot that you should let it ride. Baby needs to learn how to manipulate the food in his mouth on his own, and if you're not careful and go for the finger sweep, you could accidentally lodge it in his windpipe, and then the choking really begins.
So, this Cheerio, I was watching it. Huck was breathing normally but gagging, and then gasping, and then breathing, and so on. And I was frozen in the middle of the room, waiting in a panic.
And then I got nervous, picked him up, and thwacked him on the back. At which point he gagged a big old gag and then threw it all up. Offending Cheerio, plus the last 15 or so Cheerios. Not pleasant.
He was totally fine, unfazed, squirmed to get down and went back to eating Cheerios. Meanwhile I was traumatized.  My first thought was "NO MORE SOLID FOODS, EVER!"
Since then Huck has choked on pizza crust, a pretzel, and even a tiiiiiny bite of gnocchi! All things he could formerly handle with aplomb! It's so rude!
I've decided it's just a phase, and that he's eating more aggressively than normal and he's just outdoing his own ability, but that those abilities will soon catch up and all will be fine. Yes? And I'll just watch him like a hawk more than usual (great).
Choking. Your biggest fear ever? Or NO, BIGGEST FEAR EVERRRRRR!?
Article Posted 5 years Ago