Oh What Do You Do In The Summer Time?
Natalie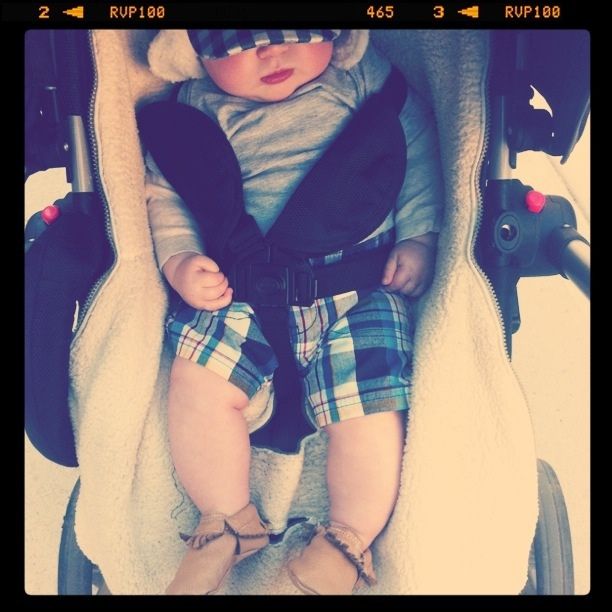 New York City has been trying to make me hate her lately by golly, but she sure slipped up today. Highs in the 70s and glory glory hallelujah! I could have kissed her smack on the mouth, that old hussy!
And what do you do in the summer time, when all the world is concrete? I'll tell you, after the jump!
Parks are what you do. Parks parks parks. PARKS!
Did you know that New York City has over 1700 parks? This is an astounding number, is it not? (For comparison, there are only 174 Starbucks in New York City, and I swear to you there is one ON EVERY CORNER.)
In New York my life as a mom is centered around parks. Which parks are closest, which parks are quietest, which parks are busiest, which parks are cleanest, and which parks have the best selection of bathrooms close by.
And now for your entertainment, this is how it goes when it is April and you live in the city and the weather is entirely unreliable:
1. You look out your window (this part is easier said than done, a great number of NYC apartments have views of what appears to be Azkaban).
2. You ascertain the weather. This can be done one of two ways: you can either 1.) watch for heat waves rising from the faces of the buildings our your window, or 2.) get on yer darn smartphone already and have technology tell you.
3. If it's lousy out, you grumble a bit and call up some friends and plead with them to meet you with their kids in the whale room of the American Museum of Natural History (promise them Shake Shack afterward and they'll usually be amenable).
4. If it's sunny out, you hop on your email and send out a mass message to your moms group: "It's sunny out! What park are we meeting at today?"
5. Hope somebody suggests a park close to a news stand with cold Diet Cokes.
Today it was the Choo Choo park. Activities in the Choo Choo park include: climbing all over plastic trains, breaking up squabbles, sliding down slides, instructing boys that if they wave that stick in the air one more time it will be taken away, move fat babies from one hip to the other, ask "Is that Ethan Hawke jogging with his dog?" and then confirm, "Yes, that is Ethan Hawke jogging with his dog," and then of course, that most reliable of all mom group occurrences: holding a conversation wherein every other sentence someone says, "Hang on," runs after a kid, comes back breathless, and says, "What were we saying?"
So, what do you do in the summer time when all the world is surprisingly sunny and you are desperate to get out and enjoy a warm breeze on your face?
Article Posted 5 years Ago