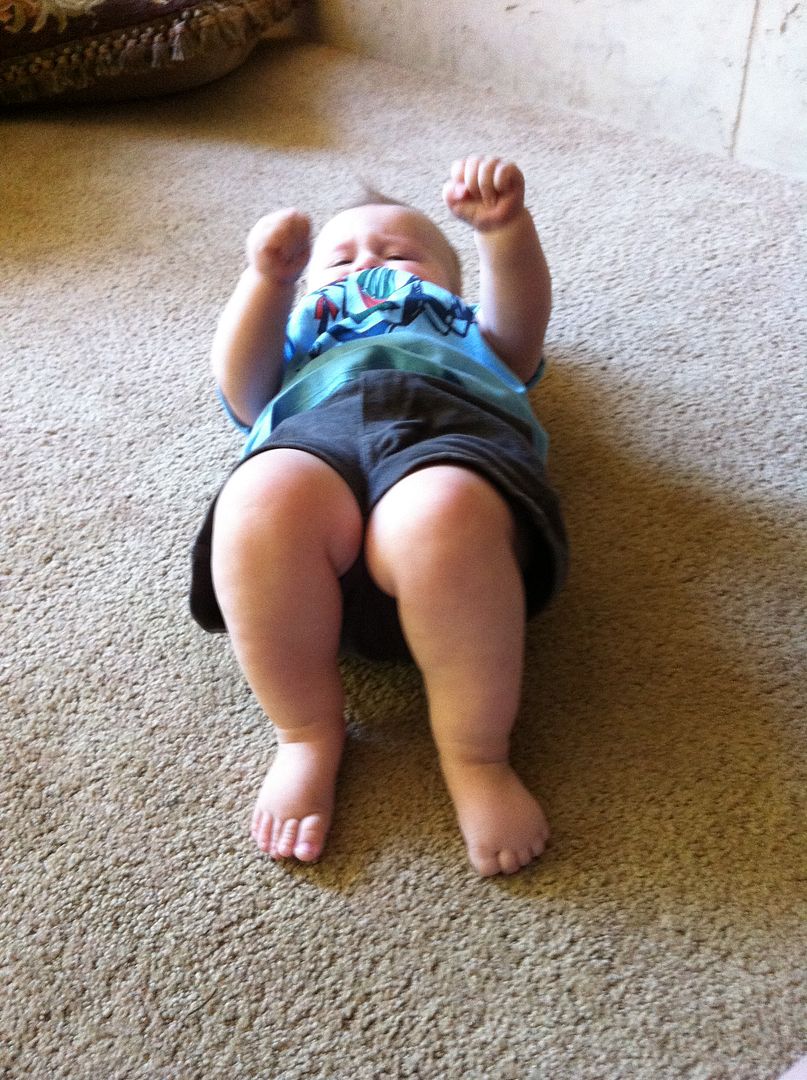 We are in Portland for a few weeks, and holy cow does traveling across time zones funk with your baby's sleep!
Our nap time and bed time seem to be unaffected, but at night Huck is having a hard time staying asleep. It seems once his natural REM cycle ends, he has a difficult time easing himself back to sleep in unfamiliar territory (poor dude!). Add that to budding new talents (waving, pointing, eating olives, and almost crawling) and meeting all kinds of new people (plus I think some separation anxiety might be to blame, as well), and it's been quite the challenge for either one of us to get any decent nighttime sleep.
But I've done a bit of research and, after the jump, I've compiled some tips for easing vacation sleep woes.
1. If your baby is sleeping in a pack and play (like mine is), try draping a sheet or light blanket over the mesh sides so baby can't easily see out and know he's somewhere strange when he wakes between REM cycles.  (If you have time before you travel to get your baby accustomed to sleeping in a pack and play, that might be even better!)
2. Pack your sound machine, fan, mobile, or baby's favorite blanket so you can keep as much of his usual sleeping environment consistent. If baby normally sleeps in a different room and you are sharing a hotel room, consider putting him to sleep in the bathroom and running the faucet (make sure the drain is not obstructed) until he is in deeper sleep cycles.
3. Consider co-sleeping if you're concerned about finding a crib once you've reached your destination. Be sure to follow all safety precautions for co-sleeping, and ditch the fluffy pillows and excessive blankets, and experts recommend not co-sleeping if anyone sharing the bed has had too much to drink.
4. Yes yes, sleeping in a car seat or stroller is not ideal. But for my dude, the car seat is a life saver. When he wakes in the middle of the night and doesn't need to eat, I plop him in the car seat or stroller and soothe him down. Anything to get sleep!
5. As tempting as it may be to attempt sleep training while on the road when your baby simply will not cooperate at night, experts agree that travel time is not the time to let your baby cry it out.  (Especially if you're in a hotel or sharing walls with sensitive family members.)Travel can be tough on babies, and sometimes what they need more than sleep is security.
6. For older babies, adjust their meal times, nap times, and bed times to reflect their new time zone. (Infants and newborns will still need to eat on demand.)
7. Thinking of trying Benadryl? Doctors recommend that you don't, especially if you've never used it before and are not sure how baby will react. Many babies become quite hopped up on Benadryl–not what you're going for!–and sleep-inducing drugs will only make their natural transition to a new time zone more difficult.
8. Be patient! It may take a few nights, or it may take until you are back home in familiar territory, but eventually, your baby will sleep normally again.
What tips for travel sleeping do you swear by? Tried anything that might be helpful?
Article Posted 5 years Ago