So You Have A Baby: Is It The End Of Life As You Know It?
Natalie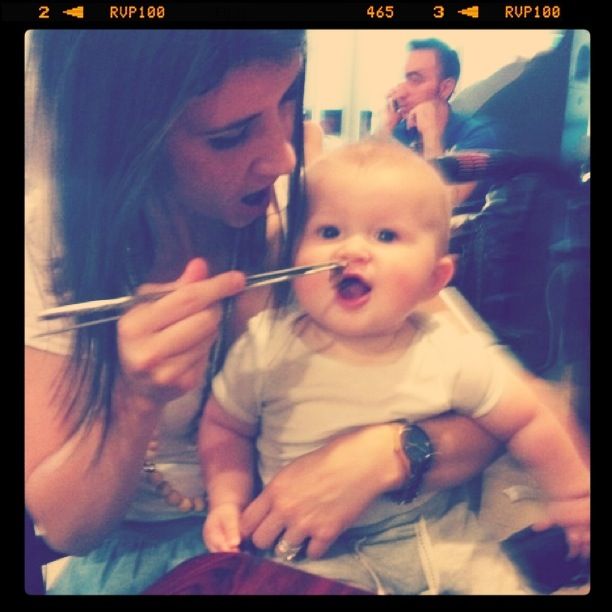 I just read this article at Jezebel.com and it set me to thinking.
When I was pregnant, I was told almost daily by sweet, good-intentioned strangers on the street that my life was about to change FOREVER. "Enjoy this time, you'll never get to leave the house ever again!" is what they would usually say, with a weird mixture of sympathy and smugness on their faces. It at least was a variation from that other favorite of mine, "Sleep now, while you can!" and it never ceased to make me roll my eyes with irritation. What? This baby will change my life? Things will be . . . different? Well, shoot, is it too late to change my mind?
All sarcasm aside, most of us decide to have babies because we're ready for our lives to change, am I right? With a few exceptions, generally, we expect that change–sometimes we even crave that change. Right?
But it wasn't just well-meaning people on the street, either. After Huck was born I started to hear a similar refrain from even my friends with kids . . .
"It's time to teach Huck to take a bottle," one friend told me when Huck was eight weeks old. "If you teach him to take a bottle now, you can pump and then leave him with a babysitter for longer than two hours at a time."
I remembered thinking, "Why would I want to leave him for longer than two hours?!?" And then shortly thereafter thinking, "Why do I even want to leave him at all?"
Huck is just now to the age where I feel we are ready for a babysitter. He is old enough that a change in guard for an hour or two would be good socialization for him, and I am definitely ready for the chance to dress up and get in a cab and eat at a nice restaurant. (More than that, I miss seeing new movies, in a movie theatre, at the same time as my husband!)
And yet, in reading the article, I found myself disagreeing quite a bit on a few points.
See, Huck goes everywhere I go. Everywhere!  To movies, to restaurants, on date nights with my husband, out shopping, on long walks through the city when I'm feeling seriously bored and needing some fresh air, on planes and trains and automobiles, to concerts and museums, and a few times I've even taken him to work meetings and PR events. He always behaves well and he always enjoys himself, I think because I expect him to behave well and enjoy himself. I always make sure to honor his nap times and bring lots of snacks and give him every ounce of attention he needs the minute he needs it. Perhaps I am lucky to have such a sociable, easy-going baby, but I have never once felt that I was short shifting my dude, OR getting in the way of other adults enjoying their time out.
And that, to me, was the most interesting part about this article on Jezebel–that so many readers repeatedly stressed in the comments–"That's all fine with me, just don't bring your baby to places where adults want to be."
Seriously?
I don't know, what do you guys think? Did your babies cramp your style? Change your style? Or did you bring them along on your adventures? If you brought them along, did you ever get any negative reactions from other "adults"? Or positive?
There's no way to tell how a baby will affect your life — just like these 6 things one mom only learned after pregnancy.
Article Posted 5 years Ago