Summer Mom Style: Part Two
Natalie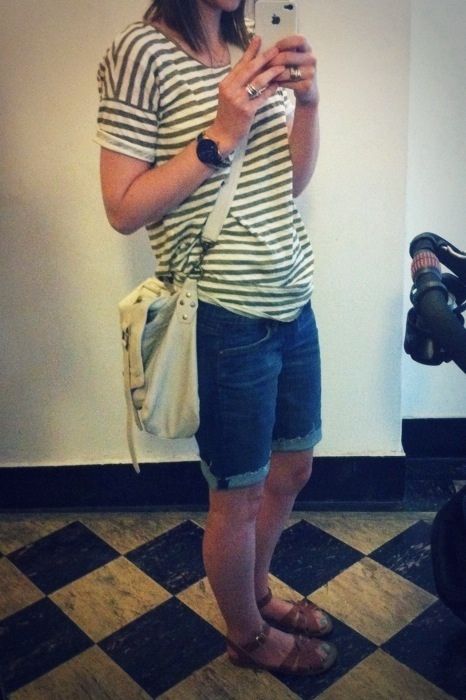 A few months ago, I wrote a post about my ideal Summer Mom Wardrobe. Do you remember that? Good, good. Those were fun times huh.
So, the other day as I was standing in my hallway in front of the mirror waiting for the elevator and I was taking my usual daily iPhone picture of my outfit (why do I do this? I am not sure), I realized, quite suddenly, that I was wearing the exact outfit I had described in that post. Head to toe, I was living the dream! Ok, it was more exciting than it needed to be, but whatever.
And then I thought, you know, since I take photos of my outfit whenever I'm standing in front of the mirror by the elevator, maybe I could put them to good use? And then I thought, who do I think I am?? That is really dumb. But then I thought, I don't know, if any one of you were to show me what you were wearing during the week, I'd be weirdly fascinated by it. So, you probably could be too. Maybe. Maybe?
After the jump! My Summer Mom Wardrobe! In the flesh!
Top: Madewell, Shorts: Knock off Sevens from SoHo street seller (shh!) hacked mercilessly off at the knees, Shoes: Saltwaters, Bag: Target

Top: Zara, Shorts: Forever 21, Bag: ForestBound, Watch: Kenneth Cole, Shoes: TOMs

PRESS EVENT IN MIDTOWN

3 of 8

Top: Walmart (YES), Belt: Urban Outfitters, Pants: H&M Boys, Shoes: Saltwaters

HOT DAY AT THE PLAYGROUND

4 of 8

Top: Forever 21, Shorts: Forever 21, Sunglasses: Swiped from my husband, way too big for my face.

FAMILY WALK THROUGH CHELSEA

5 of 8

Top: Target (I wore it when I was pregnant and it is stretched to sadness, so why can't I just stop wearing it already?) Pants and belt: JCrew. On Huck: Carters onesie and Target camo shorts worn as pants (short leg syndrome)

Top: Forever 21, Leggings: Urban Outfitters, Rainboots: Vintage, Eating: some Twizzlers, Sense of adventure despite impending rainstorm: More like, we were out of Diet Cokes and I'd brave a tornado if it meant getting more (addicted).

SWEAT PANTS TO PLAY GROUP

7 of 8

Do you wear sweat pants in public? Do you buy this idea that we can now wear sweat pants in public if they are "slim cut" "lounge" style? Sweat pants from Target. They have seen the out of doors a few times too many.

ARE YOU BORED YET?

8 of 8

Me too. The end!
What's been your go-to wardrobe staple this summer?
Wish you had time to look this put-together? These 11 timesaving beauty products can help!
Article Posted 5 years Ago