The Great Big Huge Baby Carrier Round Up & GIVEAWAY!
Natalie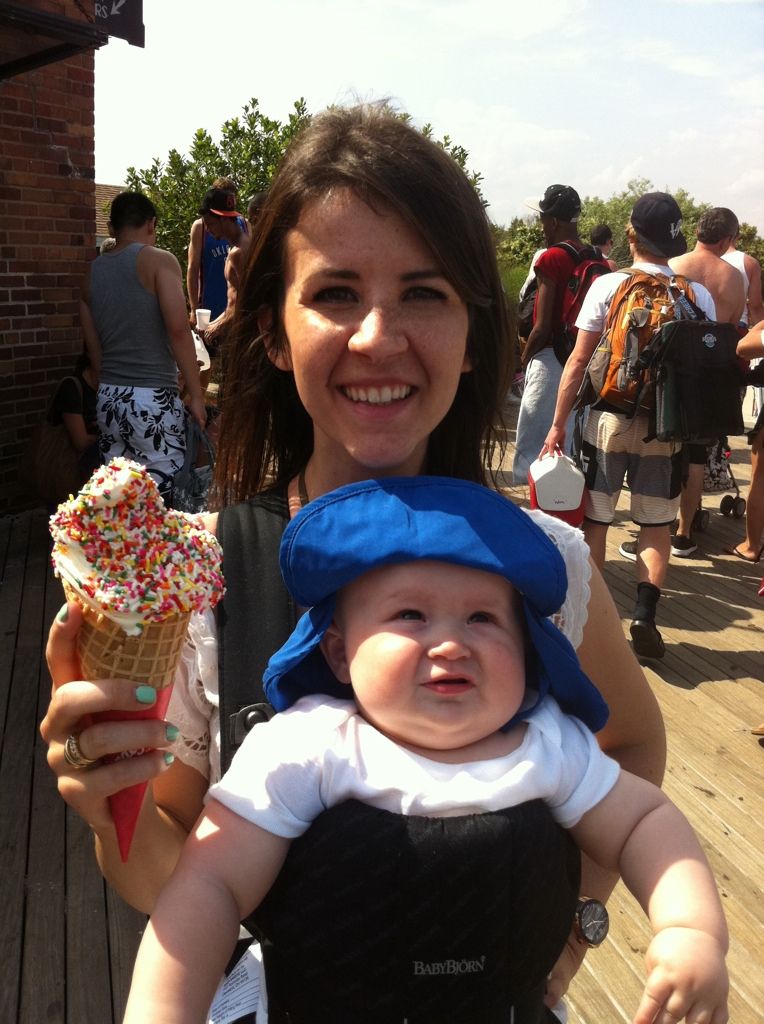 CONGRATULATIONS! Are you Kristi H? You've won!
Here's the thing: When it comes to parenting, my tendencies tend to skew toward the hippie spectrum. Delayed solids? Prolonged breastfeeding? Aversion to overly structured structureness? It's weird. I know. I didn't see it coming either.
One aspect of parenting I really couldn't have seen coming is my new obsession with baby wearing. Seriously. Baby wearing?
First of all, the term is funny. What does that even mean, Baby Wearing? You're not actually wearing your baby. You're carrying yo baby. This isn't Silence of the Lambs here. But also, right.
(More after the jump. Plus a GIVEAWAY! Oh yes you read that right!)
I like Baby Wearing (if you like to call it as such) because it appeals to my roots. I was raised by a pack of women (nine child-rearing aunts living in the same town) who wore their babies, but to them it was called "holding your babies." The women in my family read no parenting books, bought no parenting doohickers, and sort of old-schooled it. I like that. Babies were passed around and around and held constantly. By their moms, and by their cousins' moms too. It takes a village! Or something. I feel like I am following after the manner of my women by Baby Wearing, only also not, in that my way of baby wearing involves way more accessories, and less arms possibly, and also way less family members living close by. So, not at all, really, I guess. Except still, yes. Hmm.
(Also, the women in my family would probably be appalled at Hillary Clinton references of all kinds.)
So, baby wearing. Right. I am pro-baby wearing. (Who isn't?) Lots of good reasons to baby-wear only I'm not going to go there. Imma talk to you today about BRANDS. You know, like, PURCHASING OPTIONS. Which carriers are best? You want to wear your baby, but how? With what? These are big questions. Imma attempt to answer them, suckas!
BABYBJORN ORIGINAL

1 of 15

The Original BabyBjorn seems to be what you see around the most. Baby can face in or out, straps are all fully adjustable, rated for infants from birth through 25 pounds. Retails around $60.

PRO: This carrier is lightweight, easy to put on and take off, folds up very small for storing, and baby feels secure. Huck is a tub, and while there is a noticeable difference in the lack of back support in this one after trying all the rest, this is still my favorite. Biggest PRO: This carrier is FULLY adjustable--this is one of the few carriers out there that will accommodate parents who have the wing span of a fifth grader (i.e., it's good for shawties). Baby can face front or back, there are straps at the thigh to keep smaller babies feeling more secure, the bib at the front can fold down when in the front position and remain up when facing the parent, so they can nap with their little heads supported (making this one of the best carriers for the baby babies under 2 months).

There really isn't much back support, and the 25 pound weight limit is one of the lowest out there. (That said, this is the one that gets the most use around here these days. Huck especially loves it, you should see him kick.)

We bought an ERGO at Christmas time when I realized Huck was fast outgrowing his Moby wrap. The ERGO is one of the pricier models out there (retailing anywhere from $90-$130), but devoted ERGO fans swear by it. The SPORT model comes with a more lightweight fabric with wicking to keep baby and parent cool, and is sportier looking than the other carrier fabrics (which generally come in soothing, but strange pastels).

PROS: This is the easiest carrier on my back. Huck's weight is very evenly distributed and I can wear him nearly all day without a single issue. Another PRO: Some studies show that children should not be put in forward facing packs for reasons related to hip placement and the risk of overstimulation. With the ERGO it's parent-facing and that's it, protecting baby's hips and spine always, and giving him a chest to nuzzle into if the world around gets to be too much. You can also put the carrier on backwards and it becomes a backpack style carrier, essential for bigger kids. Another PRO: This carrier is rated up to 35 pounds, which is, what, a four year old? A good friend of mine was using her ERGO with her two year old while seven months pregnant in the back carry position. That's pretty hard core. CONS: Hip issues aside, my Huck is not a chest nuzzler. He wants to see and be seen! When we do the ERGO Huck always grouches at me for the first five minutes until he settles in, and even then, I'll get a forehead to the chest every now and then--his way of communicating his frustration. Another CON: the ERGO is warm. Like, hot. Even in the sport version, belly-to-belly is a good recipe for overheating in the summer. And we have overheated and it was scary. Until Huck is a little more accustomed to New York muggy summers, I think we'll be leaving this one at home. Last con: this carrier is best for bigger babies (I would say 4 months is when Huck was finally the right size for the ERGO). You can buy an infant insert of course (or use a rolled up swaddling blanket tucked under the bum). I have found, as a person of particular smallness, that the clips in the back between the shoulders are nearly impossible for me to reach.

The Moby Wrap was the carrier I initially planned to use for Huck from the get-go. Rated up to 35 pounds, retailing at $30, endless options for carrying positions, it's essentially the simplest (yet still the most complicated) carrier on the market.

The Moby is fantastic for when babies are little teeny tiny. This photo was taken when Huck was 5 days old. He was perfectly secure, slept on me nearly the entire time, and the wrap was easy to wear on my sore, post partum body. Baby can face in, out, up, down, to the side, to the back, you name it. The only limit to this carrier is your imagination (or skills as a knot tier I suppose). Plus, you really can't beat that price. $30? Come on.

You don't want this carrier when your baby ends up being a fatty. The only way to get good support with a tub of lard like mine involves draping the fabric all over your shoulders, thus limiting any ability to raise your arms or do any type of anythings. Another con, especially in the dirty city, is that the wrap flails all over the floor while you're wrapping it up and tying it on. Last, there is a bit of intimidation the first time you use it or the first time you try a new tie style. Is this secure? Will he stay? Is my knot tight enough? Will he slip through? There are a lot of user-related ways to screw this one up, so the first few times you use it, maybe stand over the bed or other padded surface. You know, peace of mind?

MOMS OWN TWO ARMS

9 of 15

PROS: Free! (Priceless!) A good work out! CONS: Exhausting! (Just trying to be thorough here.)

SAKURA BLOOM RING SLING

10 of 15

Not just for hippies and granola crunchers! Ring slings are a fantastic option for carrying your baby. I was able to try the Sakura Bloom, but there are many ring slings out there, and in many different fabrics and finishes. Depending on the fabric, they can retail for anywhere from $50-$1,000 (yes, really). You could probably even make your own! ?

PRO: Probably the most attractive option of all carriers, wouldn't you say? And the accessorizing options are limitless! Colors of all kinds, fabrics of all kinds, these slings are a lot of fun. Your baby can sit on your hip, can nuzzle on your front kangaroo-style, can sit on your back, and you can even get all multi-tasking style and put your baby in the "nursing position" and go about your business like nothing's happening under there. Genius! Ring slings are fully adjustable. The only downside is that the tail can get rather long when you're pathetically small-boned like me, but luckily you can wrap the tail around the ring and it's actually a very lovely effect. PRO: There are also some very manly linen options out there for the mens. When you aren't using your ring sling, it folds up incredibly small. Smallest out there, for sure. (Good for those of us in tiny apartments or with tiny diaper bags.) ANOTHER PRO: These are really good for nap time. Huck will fall asleep in this dude in no time flat, especially if I'm talking softly and he can put his head against my neck and feel the vibration of my voice. CON: I personally wouldn't take this sucker out for a long walk through the city, or out on a hike, or for any rigorous activity. As secure as he feels, and as much as I trust the physics behind the concept, I'd just like a secured bum holster for anything involving a trek.

SERENA & LILY MARKET SLING

12 of 15

Gorgeous, isn't it? This sling is unlike a ring sling in that it is unadjustable (for this reason you buy them in "sizes"). Retailing at anywhere from $60-$130, this is a really pretty, but really terrible carrier. More in the next slide.

PRO: It's so, so pretty, and I bought mine on super sale. CON: Having to buy a certain size is limiting if your spouse is particularly bigger or smaller than you. And be advised, they run large. CON: The least comfortable carrier by far, this puts all of Huck's twenty pounds square on the soft spot between my shoulder and my neck. Ouch! And I don't know, possibly I am doing it wrong, but when he's in there I feel like he's about to fall out at any minute. The amount of fussing with arms and legs it takes before he's in there very well? Not worth it. BIGGEST CON: Last year or so, there was a huge recall on bucket sling types of carriers after an infant was accidentally asphyxiated in one. The problem is, when carrying an infant without neck control in a bucket sling, their chins are forced to their chest, thus cutting off air flow. Be aware of this when using bucket slings with the very young babies.

BABYBJORN COMFORT CARRIER

14 of 15

The BabyBjorn Comfort Carrier is much like the Original, except for a few select differences: 1. the lower back strap, 2. the removable bum cover on the front, 3. extra back support. Retails for about $150.

I was really excited to try out the Comfort Carrier when the people at Bjorn sent it to me for review, because I was anticipating it would solve all of our ERGO woes, specifically the front carry options. PRO: Front carry! Hallelujah! PRO: Easier to get on than the ERGO. It goes over your head instead of snapping into place between your shoulder blades, and the hook clasp for the hip strap is a doohickey I can't adequately explain that is easier to secure, much easier than the three-pronged doohicker that I don't have the vocabulary for on the ERGO. In other words, I like the construction of this guy better. CONS: Putting this on feels rather similar to strapping on an octopus. So many straps! So much to weave your head and arms through! It's quite the set up. CONS: The Comfort Carrier doesn't adjust quite small enough for me, and Huck has a bit of a dangle. He is perfectly safe and the carrier is still quite comfortable, but it throws me off somehow. Are you the size of a sixth grader or bigger? You'll probably be just fine. CON: It's rather large (and octopus like, as I said) making storage for this creature a little more involved. That said, I'm still going back and forth between which I prefer most: ERGO, or Comfort Carrier? Hmmm.
And now, the super fun part: This week, I am giving away a BabyBjorn Original Carrier in their new retro design (our winner gets to choose between the orange and the blue color way!) For an entry, just tell me in the comments: Which carriers have you used? Which is your favorite? Conversely-wise, do you call it Baby Wearing or Baby Toting? (Baby Schlepping?) (Baby Chest-Strapping!)
Winner will be chosen at random this Friday at Midnight, and the winner will be contacted via email. Good luck, and happy commenting!
Article Posted 5 years Ago