To Swaddle Or Not To Swaddle?
Natalie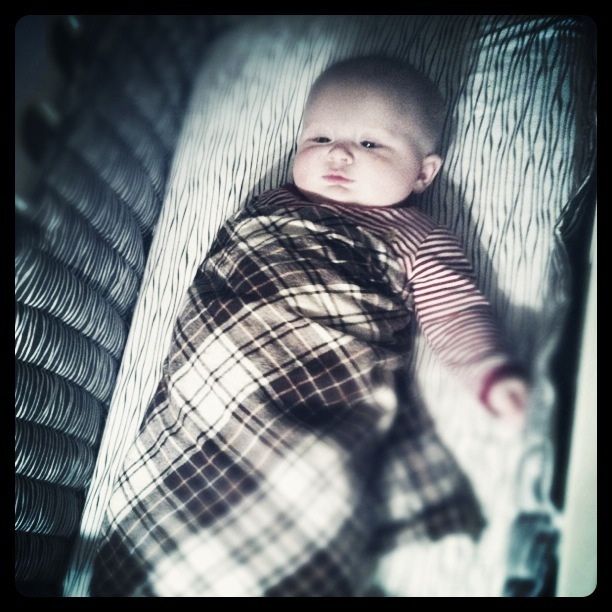 Yesterday, Huck had his 6mo check up. 75th percentile for height, 50th for weight, yes yes, he's strong and smart and devilishly handsome, but wait–this part I was not expecting–doc says I have to wean him of his swaddle.
His swaddle?!?
"He is too big for a swaddle," is how she said it. (She said some other things, too . . . another post, another post.)
Cue my heart breaking into a zillion pieces!
I love to swaddle. I am practically a professional! The swaddle has become our sleep-time ritual. "Let's go swaddle your waddle!" I mean, I say that easily four times a day. Carry him into the bedroom, dim the lights, wrap him up tight, sing him a quick something or other, kiss him on his cute wittle forehead, into bed. What will I do without the swaddle? Good gravy, why is this all happening so fast?!?!?
(More after the jump.)
It's not as if Huck can't get out of a swaddle on his own (he wriggles his arms and legs free every night and usually wakes up with a tube of a blanket around his midsection), and it's not as if he's terribly at risk for SIDs anymore (DON'T YOU DARE TELL ME OTHERWISE, INTERNET!), so I don't get what the big deal is? Do you?
There are many, many reasons why one should swaddle their baby: Comfort, warmth, security, to dampen their jittery reflexes as newborns (yes, he's grown out of this, but . . . !), and studies have shown that a good swaddle will help babies to self-soothe. See? Good reasons!
And what is really the difference between a nighttime swaddle and a good, old-fashioned "tuck-in?"   ???   SERIOUSLY.
So, what I want to know is, what are the reasons why one should not swaddle? And when is "too old" really too old? And pardon me if I don't think six months is it, but . . . really. Really! Really?
I don't know, you tell me.
Article Posted 5 years Ago