Eye makeup brushes are one of my obsessions. I have fluff brushes, smudge brushes, and lining brushes galore. I collect different spoolie brushes, and a new lash comb can make me giddy. There are so many different eye makeup brushes out there on the market that it is easy to be intimidated by the variety! While I'm not a makeup artist, I thought I would share my makeup brush obsession and hopefully demystify a few of the brushes for you!
What are your favorite makeup brushes?
A quick look at the different brush types, how to use them, and then where to buy them!
ALL OVER FLUFF BRUSH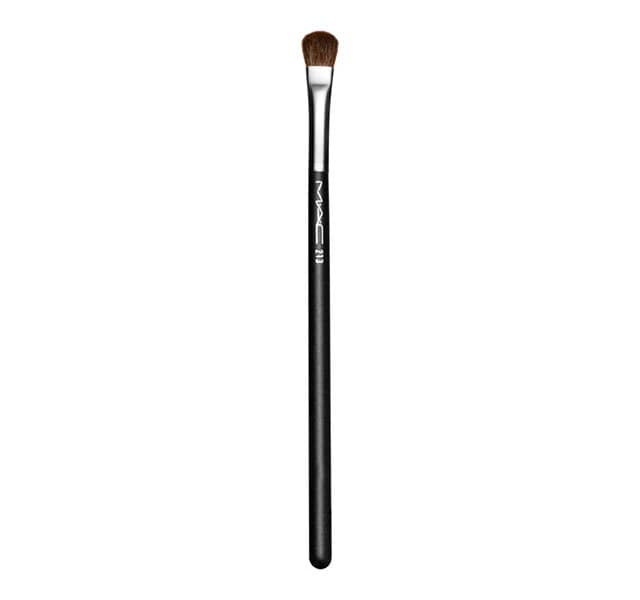 This is perhaps the most basic of eye shadow brushes, and it can do almost anything! The smallest sizes work for strategic placement of shadow, medium brushes work well to place shadow across the eye, and the largest fluff brushes work well for placement of shadow on the brow bone as a highlight. You can pat this brush to place a higher concentration of shadow or sweep for a lighter wash of color.
Try:
1. MAC 213 Shader Brush $24
2. e.l.f. Essential Eye Shadow Brush $1
3. ULTA Large Eyeshadow Brush $14
4. Sephora Classic Must Have Powder Shadow Brush #60 $15
5. Coastal Scents Classic Shadow Medium Natural $2.49
ANGLED FLUFF BRUSH
A bit more versatile than the basic eye shadow brush, the angle can be used to sweep shadow over a large area or the tip to place shadow into the crease. The angled shadow brush is perfect for adding a dark shadow into your outer "V."
1. Bobbi Brown Angle Eye Shadow Brush $32
2. bareMinerals Angled Definer Brush $22
3. Sigma E70 Medium Angled Shading $16
4. Coastal Scents Classic Shadow Angle Synthetic $1.95
NO HARSH EDGES
Whenever I ask makeup artists for the biggest mistake that women make with their own makeup, the answer is, "They don't blend enough."  Harsh lines are a no-no when it comes to makeup — you need to blend everything after application! These fluffy brushes are great to just brush over everything when you are done with application. Don't blend too much, or you'll end up with muddy colors instead of a great eye look.
Try:
1. Sonia Kashuk Core Tools Pointed Blending Brush – No 109 $3.99
2. Make Up For Ever 242 Large Blender Brush $30
3. Coastal Scents Classic Blender Natural $2.95
4. MAC 217 Blending Brush $25
5. Trish McEvoy Brush 30 Eye Blending $30
PERFECT YOUR SMOKY EYE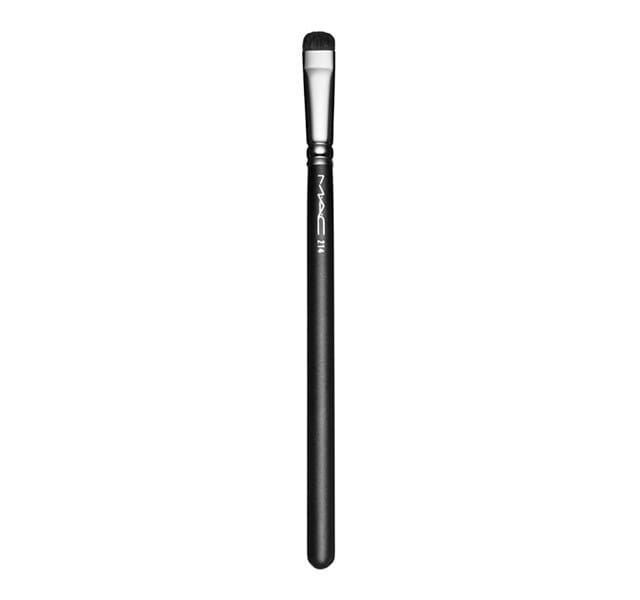 The smudge brush is currently my best friend! It's almost impossible for me to create a sultry, smoky eye look without a favorite smudge brush. These brushes have shorter and denser bristles than a regular fluff brush. A stiffer brush will "smudge" more than a more flexible brush.
Try using a smudge brush on your eyeliner; it will make that harsh line much more flattering. It is also great for applying darker shadow to your crease or outer contour area.
1. Sigma E20 Short Shader $15
2. MAC 214 Short Shader Brush $25
3. e.l.f. Essential Smudge Brush $3
PRECISE COLOR APPLICATION
Perfect for very precise application of a color, these small brushes have a nice rounded tip. They also work for blending small areas or applying shadow to your crease.
Perfect for very precise application of a color, these small brushes have a nice rounded tip. They also work for blending small areas or applying shadow to your crease.
Try:
1. Sigma E20 Pencil $15
2. MAC 219 Pencil Brush $25
3. Coastal Scents Elite Detail Pointed $3.95
ADD SOME DEPTH
A little larger than a pencil brush, the crease brush is usually a bit softer and is the perfect shape for adding a little depth to the eye.
To make sure you hit the exact right spot above your crease, tilt your head back a little as you apply. Go for a matte (or near matte satin) brown-taupe shade of shadow.
Try:
1. Coastal Scents Classic Blender Crease Natural $2.49
2. e.l.f. Essential Eye Crease Brush $1
3. Laura Mercier Eye Crease Brush $30
4. Sigma E47 Shader Crease Brush $15
LINER MUST HAVE
Created to line your eye, these brushes are usually too stiff to use for regular shadow application. They work great to push liner down into your lash line, whether you are using gel, cream, or even powder as your liner. They could also multi-task into your brow.
Try:
1. Laura Mercier Flat Eye Liner Brush $26
2. Make Up For Ever 256 Definer Eyeliner Brush $24
3. Sephora Pro Flat Liner Brush #25 $11
4. Coastal Scents Classic Flat Liner Synthetic $2.95
LINER OR BROWS
Similar to the flat tipped liner brush, this brush has a slanted tip (shocker!), which makes it a bit easier to use at an angle to your eye.  It is easier to use on your brow than the flat tipped brush, and I've found that it is great to swipe over your pencil liner to smooth out the application.
Try:
EASIER TO TIGHTLINE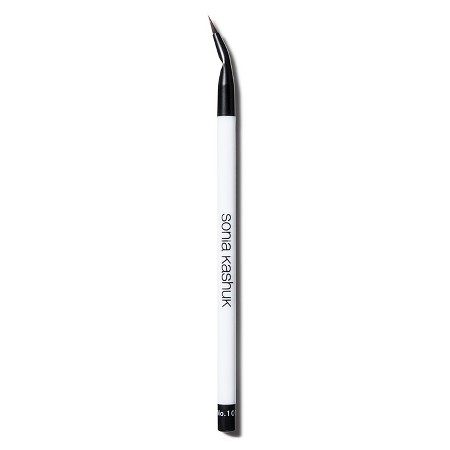 Sometimes you really want that liner to be only in your lash line, or you may even really want it only on the underneath of your lash line (tightlined), and it can be very hard to do that with a flat or slanted brush! The little bend in the handle with a bent liner brush really helps a lot with getting your liner right into the lash line.
Try:
1.Laura Mercier Angled Eye Liner Brush $22
2.Sonia Kashuk Core Tools Bent Eyeliner Brush – No 107 $5.99
3.Coastal Scents Elite Angled Liner $2.95
4.Sephora Pro Bent Liner Brush #23 $17
5.Japonesque 150 Degree Application Pointed Liner Brush $13
MORE NATURAL MASCARA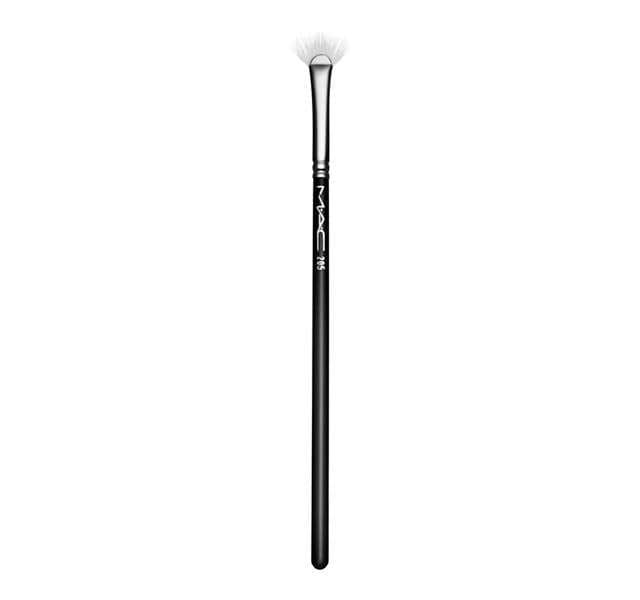 Mascara fan brushes are about to become the latest trend in "must-have" makeup tools. They've been spotted all over the backstage areas at Fashion Week.
These brushes make more natural looking lashes very easy to get … without changing your favorite mascara! Simply wipe the brush onto your mascara wand to pick up product and use the brush like you would a wand. Not as much mascara is deposited, but it is easier to get the mascara right to the very base of your lashes.
There are only four mascara fan brushes currently on the market, but any fan brush with short, stiffer bristles would work. Check your local art supply store for something suitable!
Try:
1. MAC 205 Mascara Fan $20
2. Sephora Pro Visionary Lash Fan Brush #220 $18
3. Claudio Riaz Lash Touch $65
SPOOLIE FAVES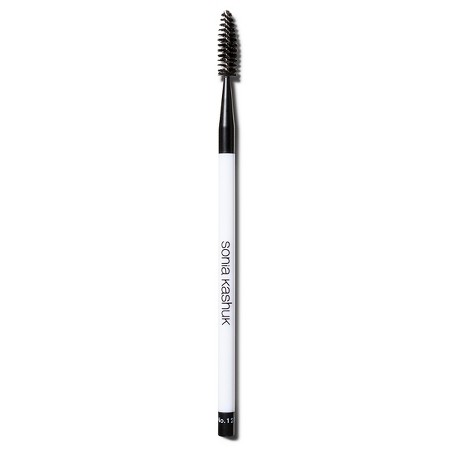 For some reason, I really love looking at spoolie brushes. I don't use them often, but they can be super useful! I love to brush a spoolie through my brows after using a brow pencil. It tones down the pencil and helps it blend in for a more natural look. A spoolie is also great to run through your lashes before your mascara dries to help push up your lashes and remove clumps! To help revive your mascara after a long day, you can also brush your lashes with a wet spoolie (use water or eye makeup remover) to help reset your mascara.
Try:
1. gloMinerals Spoolie Brush $6
2. Napoleon Perdis Mascara Wand $8
2. Sonia Kashuk® Core Tools Spoolie Brush – No 127 $1.99
In addition, you can wash mascara wands instead of throwing them away!  Some of the best spoolie brushes are in your mascara tube.
DOUBLE SIDED BROW AND LASH COMB
This double sided brush is actually one of my favorites! The thick and stiff brow brush is probably familiar to most people. I use it to brush my brows. That's about it — it is too stiff and harsh to do anything else with.
The comb is my secret weapon. My favorite combs are all metal; I've found that the plastic versions are too clunky to work well. I comb through my lashes a little to separate them and remove any clumps in between coats of mascara. I've found that this makes my lashes look much thicker.
Try:
1. Real Techniques Lash-Brow Groomer $5.99
2. Coastal Scents Classic Lash Brow Comb $3.95
3. EcoTools Lash and Brow Duo $2.99
Article Posted 5 years Ago