Getting it DONE!
Jenny Komenda
I get asked a lot about how I juggle my work schedule with my personal life. Isn't it impossible to keep track of everything we moms have going on? Doctor's appointments, play dates, kids school project, our own work projects, birthday parties, Jimmy needs new soccer shoes, etc.
I am such a list person. I love writing out to do lists, but better yet, crossing off items. It feels so good! I started to notice though a while back that my to do lists weren't always getting looked at. It was like I'd write out everything I needed to do for a day, just as an exercise to be aware of the items, and then never look at it again. No bueno.
(my life changing discovery, after the jump!)
I realized pretty quick it was because I am always out and about or at my computer. I had to go out of my way to look at the handwritten list. When I heard about Teux Deux I couldn't wait to give it a try. It's FREE when you use it on your computer, but if you also want to add it to your iPhone, the app costs only $2.99. The best part is your app and website lists SYNC! So I can write out my initial to do list at my computer in the morning, and add to that list through my phone while I'm out working. Also, whatever you don't get done today, automatically rolls over to tomorrow's list.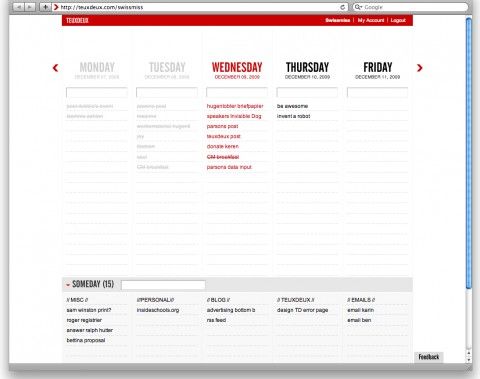 It sounds dramatic, but after only a couple months of using Teux Deux this program has changed my life. I'm not getting anything for sharing this, just trust me here. It's a game changer. It is so incredibly well designed – only what you need, no bells and whistles – that I find myself just flying through my to do list every day. And what feels better than that?
Here's a link to a video demo. Now go forth, download, make lists and succeed!! 🙂
xx
Article Posted 5 years Ago