It's time for Jenny's Favorite Things again! Which of these would you like to win?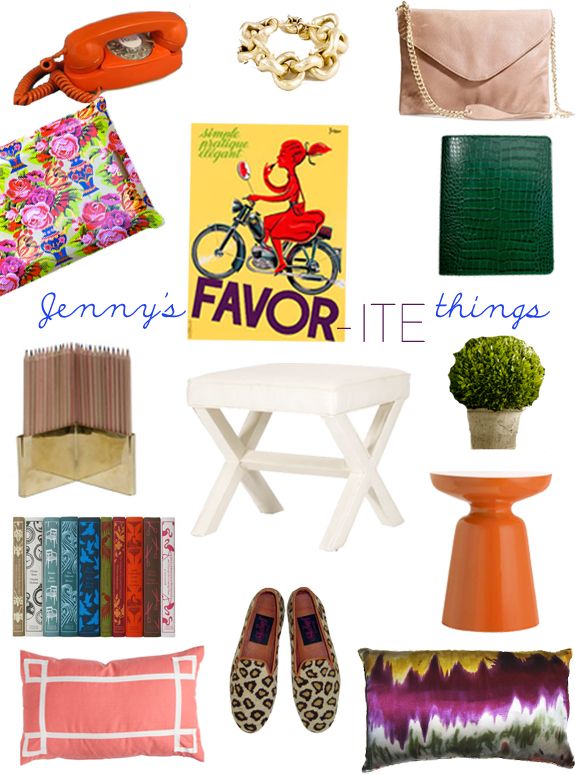 Before you look at the goods, here are the rules:
To enter, scroll through and chose ONE item from the list that you would most love to make your own. Leave a comment stating your item of choice.
For a second chance to win, tweet: "I would love to win one of @jennykomenda 's favorite things http://bit.ly/vsrmgL (via @babbleeditors)"
The specific items available for this contest are indicated in the link locations, which are embedded in the slide show. Contest ends Friday, Wednesday, November 2 at midnight. The winner will be selected using Random.org and their name and the item they selected will be posted on Thursday, November 3.
***CONGRATULATIONS TO ANNIE at Girl Who Could Fly! I sent you an email to claim your brass pencil holder! And thanks to all those who entered. Stay tuned for Jenny's Favorite Things Part 3! xx***
Now, for the exciting part!
Silk Ikat Pattern Pillows (a pair)

1 of 24

Who wants a pair of silk charmeuse ikat pillows for their bed or sofa? I do! I do!

Find the pillows at Fabricadabra

Leather Notebook with Inserts

2 of 24

I invested in a lovely Graphic Image refillable notebook cover and inserts a year or two ago and I'm so happy I did. The leather is gorgeous and feels much more professional for business meetings than a too-simple graph paper composition notebook (another favorite)

Notebook available at Graphic Image

Preserved Boxwoods

3 of 24

I am OBSESSED with these preserved boxwoods. They are real plants but they require almost zero watering. SERIOUSLY, these are great and worth every penny.

Find the boxwoods at Restoration Hardware

Did you see that Jaime's new Furbish location is open for business?? I wish I lived in Raleigh so I could see it all in person! I'm dying for one of these trays!

Find the tray at Furbish Studio

Brass Colored Pencil Holder

5 of 24

I cherish my brass color pencil holder. It make my desk sing. This is a great gift for the artistic person in your life. (or just for you to keep 🙂

Find the pencil holder at Velocity Art and Design

This is the perfect party bag to me. Small clutches that are easy to hold all night don't have enough room for my iPhone, money, lipstick and business cards without looking bulky. And clutches that are big enough to carry all my stuff are a pain to hold in my hand all night. Enter this bag! The deep nude color goes with everything too, and of course the gold chain is a bonus. It's true love.

Find the bag at J. Crew

Green Silk Blouse

7 of 24

You know me and my silk shirts. This one is GREAT and works well in any season.

Find the blouse at Anthropologie

Leopard Outdoor Rug 3×5

8 of 24

I have this leopard indoor/outdoor rug in our entry and a year later, I still love it. It hides stains so well and I can leave a dripping wet stroller on it without worry.

Find the rug at Ballard Designs

Set of 4 Dinner plates from La Plates

9 of 24

Set of four dinner plates in your chose of design. I have a set of these for my girls and we use them literally every single day. They're great.

Find the plates at La Plates

There's a place for a gold pouf in almost every room 🙂 Metallics can act like neutrals, so why not?

Find the pouf on Amazon

Penguin Classics

11 of 24

Of course you know all about these Penguin classics. They're great for a beautiful pop of color on your bookshelves (maybe they'll help make us want to pick up the books and actually read!!). Your choice of five from the series.

Browse the selection of Penguin Classics on Amazon

Caitlin Wilson Textiles Pillow

12 of 24

My sweet, gorgeous and talented friend, Caitlin, is an interior designer based out of Philadelphia. Her truly beautiful new fabric line just launched on her site and she is also selling her signature fretwork pillows in all different colors. I'm obsessed with this coral pillow!

Find the pillow at Caitlin Wilson Textiles

Leopard Needlepoint Loafers

13 of 24

Loafers are everywhere this year and I really want these needlepoint leopard ones. Perfect for running errands and walking the kids to and from school this fall.

Find the loafers at the Monogrammed Martini

Vintage Orange Princess Phone

14 of 24

I love vintage phones and this company is a decorator favorite. I'm totally feeling the shape of orange princess style phone. I think you can change out the image behind the dial placard too.

Find the phone at Old Phone Works

I will always love suzanis. This one would make a great throw or coverlet or upholstery for an ottoman, or a wall hanging, or framed...

Find the suzani at Fabricadabra

Red Orange Cocktail Table

16 of 24

I love love love this little side table. It's a great color, a really fun shape and an easy way to inject some modern into your space without going full force.

Find the side table at West Elm

An X bench in off-white twill can be a great accent in any home in any room.

Find the bench at Ballard Designs

X-Large Boat and Tote bag

19 of 24

Boat and Totes are so versatile! I love the Extra Large ones with long handles for lugging around all my paint decks and fabrics and decorator stuff. Any color and size with monogramming if you want it.

Find the bag at LL Bean

Set of BM Paint Decks

20 of 24

My life changed a few years ago when I got my first set of paint decks. Even when I wasn't professionally decorating, I would use them surprisingly often. It is so handy to not have to go to Home Depot every time you want to contemplate colors. This link is for the full Benjamin Moore line (three decks)

Find the fandecks at My Perfect Color

I've got this poster hanging in my girls room. It's big and graphic and gorgeous! The roughly 30x40 size is up for grabs.

Find the poster at Poster Corner

There is a really cool petrified wood forest in Northern AZ near where my Dad grew up (and where my parents now live), so I have a special place in my heart for petrified wood. My grandparents had some really cool pieces on display at their home. I love the look of this serving platter, which would be a chic way to serve cheeses at a party, but also looks great just hanging out on a coffee table when not in use.

Find the platter at Anthropologie

Maggie's Harvest

23 of 24

I am absolutely DYING to get my hands on this amazing cook book. I've heard great things about the recipes and the approach to food (my friend calls it 'revolutionary'), but seriously, that cover. WOW.

Find the book at Terrain

O'verlays Greek Key Kit

24 of 24

Have you heard about O'verlays yet? A pair of creative and talented bloggers came together and designed these cut outs made to embellish IKEA furniture (or really any furniture, or wall or whatever - they're really versatile). Up for grabs is a pair of Greek Key lack table kits!

Find the kit at O'verlays
GOOD LUCK!!!
(Also, for your viewing pleasure, HERE'S Jenny's Favorite Things Part 1, in case you missed it. The contest is over, but the eye candy is still fresh!)
Article Posted 5 years Ago