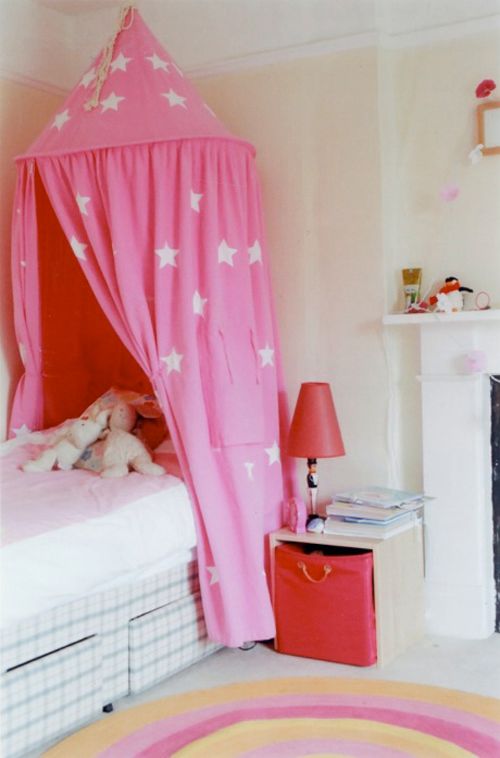 Some of my readers saw this image I posted (from British Home and Gardens) and asked for ideas on how to recreate the canopy with the pink star fabric.
Super cute and super easy! Let's do it!
(Anything that is available for purchase is linked in the slide show. The hyperlink is a slightly darker gray color)


Give your little princess or prince sweet dreams under a star canopy!

1 of 12

A decent fabric substitute

2 of 12

Or make your own star fabric!

3 of 12

Or bubblegum pink

4 of 12

Use Freezer Paper to make a stencil

5 of 12

Just use an X-acto knife to cut out star templates from freezer paper, iron the paper to the fabric, paint the stencil and remove the freezer paper. So, so easy (much easier than it sounds)

My favorite textile paints

6 of 12

Best brush for freezer paper stenciling

7 of 12

In case you want some help choosing a star shape...Here's one that is a little softer, maybe a little younger feeling?

Can't go wrong with a classic five-point.

The six and eight-point stars remind me of a star pattern Osbourne and Little makes. A little more sophisticated than the others.

Now for assembling the canopy!

11 of 12

The easiest thing to do to make a canopy just like this one is to sew a

HULA HOOP

in to your new star fabric. I would make the cone shape first and the sew a sleeve for the hula hoop. This hoop deconstructs so you can easily feed the hoop through the sleeve. Then I would sew a ling 'skirt' portion to the cone. DONE!

Hang it with something cute

12 of 12

I saw this blue and white rope at Home Depot the other day. Wouldn't your new pink canopy look adorable hanging from the ceiling on this rope?? Yes it would!
Article Posted 7 years Ago