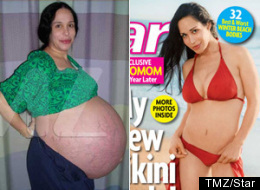 Single mom, fertilization enthusiast, would-be reality show star-you can add one more job to Nadya Suleman's (Octomom) resume: swimsuit model.
Maybe that doesn't seem out of the ordinary to you, maybe you see swimsuit modeling a natural next step to a controversial single mother of 37 kids. But maybe this will surprise you; she says she got back into swimsuit shape with no help at all. As in, no plastic surgery.
"I would feel like I cheated," she told Star magazine. "I wanted to prove to myself that I can do it on my own, naturally. My friends call me Rubber Band because I always snapped back so quickly after my other kids!"
We all like to believe in magic. I want nothing more in the world than for unicorns to frolic with leprechaun beneath a butterscotch fountain-but even magic couldn't do this. Let's take a look at the "family way" Octomom again.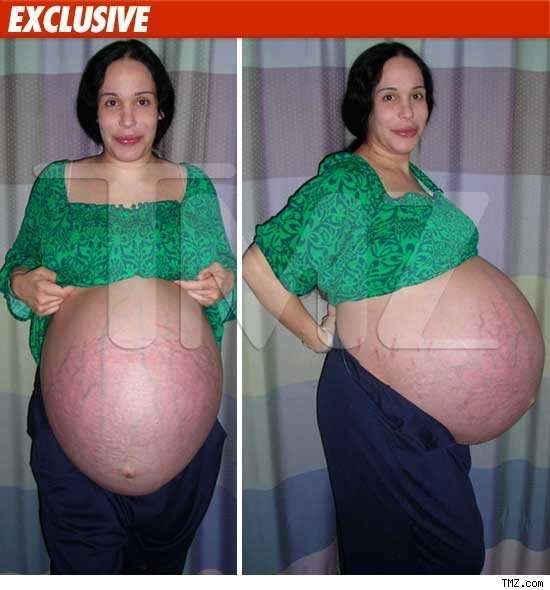 See those stretch marks? Looks like an aerial view of the Los Angeles freeway system. Do you mean to tell me those 80 square yards of extra skin just vanished on their own? Sorry
C'mon, Nadya, celebrities admitting to plastic surgery is no big deal these days (Yeah, I just acknowledged Octomom is a celebrity). In fact, it would be weird for one to insist they didn't. People have enough doubts about how in touch with reality you are without you tossing lies only a 4-year-old would believe they could get away with.
So listen, you look great. Science is an amazing thing, let's just leave it at that, okay?
Photos: TMZ, Celebuzz
Links:
Article Posted 7 years Ago
Videos You May Like