If you really want to wow your cultured friends and neighbors this Halloween, go grayscale! Inspired by beloved film noir couples like Bogie and Bacall, this couples costume idea takes modern wardrobe items and styles them strategically with a heavy dose of makeup to create the illusion of film noir come to life. Black and white movie stars jumping from the screen into our modern life? It's like the movie Pleasantville in reverse.
FILM NOIR COSTUMES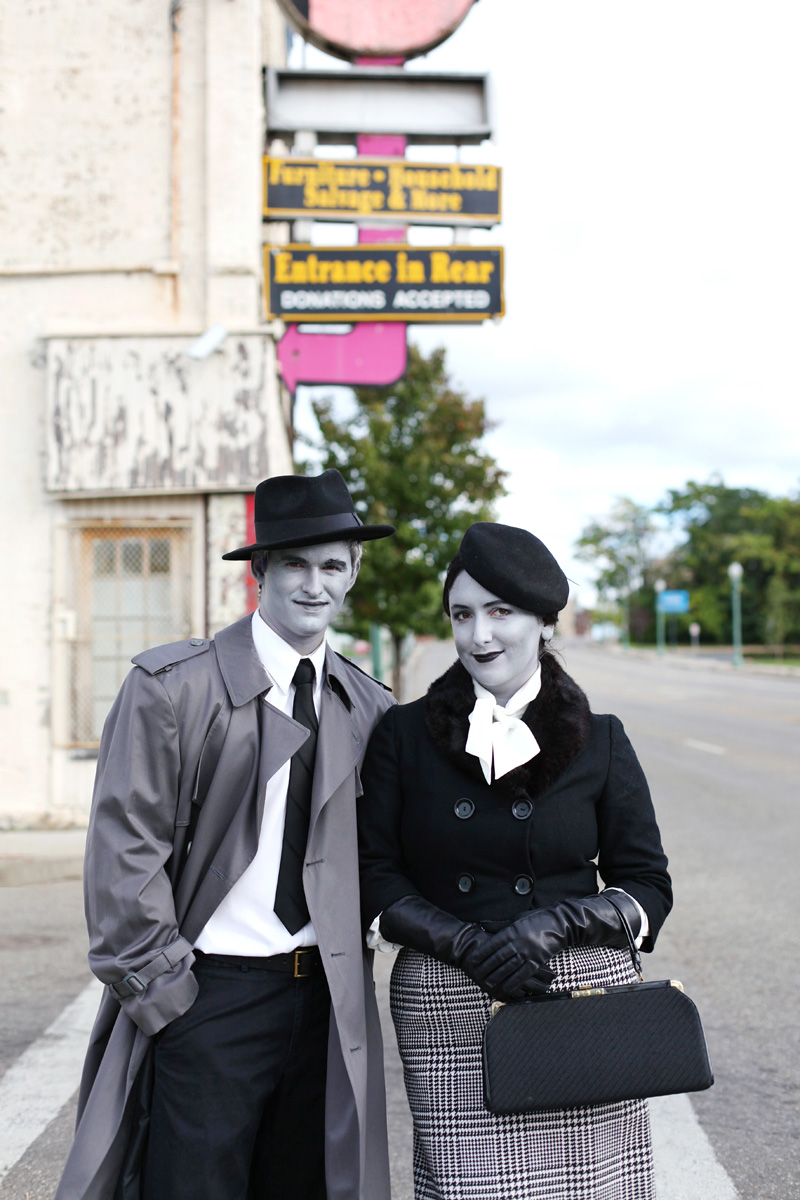 Applying the layers of makeup for this grayscale costume takes a bit of time, but I promise, if you pay attention to the details, it's worth it to see everyone's tickled responses at Photoshop come to life! They really won't believe their eyes. This Halloween costume's a trick, and a treat! Check out the following to see how we did it.
COMPILE A GRAYSCALE OUTFIT
To put together our costumes, we rummaged through our closets to see what we could find. We had everything we needed except for a black wide-brim fedora and grey trench coat for "Bogie," and a below-the-knee skirt for "Bacall." We found those after just one trip to the thrift store.
Check out the next slides for the basics of what you'll probably want to compile your film noir outfits.
WHAT YOU NEED FOR HER COSTUME
If you're a fan of film noir classics, you'll notice that the femme fatals typically wear tailored suit style dresses, long, slinky dresses with shoulder pads, or wide-leg pant sets with shoulder padded blouses. I chose to wear a tailored outfit, simply because it's what I had in my closet, and because it covered the most skin- so less messy makeup! And warmer for our chilly Northeast Halloweens.
Here are some tips for compiling a tailored outfit for your version of a femme fatal:
Wear a blouse that comes up to your neck. It makes the makeup job easier, and adds an interesting element to the outfit.
Select a variety of shades of gray, white, and black. If you wear grey from head to toe, it won't be as visually impacting as finding a patterned element, grey elements, and both black and white elements.
Find a tailored jacket that's black, grey, or checked, so your flesh toned arms are hidden. A faux fur collar is even more period accurate- details matter!
Wear a pencil skirt that goes below your knee. It lends more period accuracy than one above the knee or one in another style.
Find gray tights. Sheer nylons were in style from the '30s to the '50s, so gray tights look like sheer nylons in grayscale. In a pinch, however, black tights will do.
To get that wow-factor, it's important to wear a vintage styled hat, but select a style that you might enjoy wearing again. Black berets were a popular option then and now, and a structured little beret like mine can be pinned securely to stay in place all evening.
Wear feminine gloves to cover your flesh toned hands. Makeup on the hands is a disaster waiting to happen!
Black pumps in a simple style are the perfect shoe for a femme fatal.
A black vintage style purse is a nice finishing touch, but if you don't have one, just stash your belongings in your man's pockets!
WHAT YOU NEED FOR HIS COSTUME
This outfit centers around the common element most gangsters and gumshoes from the film noir genre share: the trench coat and wide-brim fedora. Everything else isn't as important. But here's what we suggest you wear:
black wide brim fedora: we found ours by searching on eBay for a "black gangster hat."
gray trench coat: we found this one after only one trip to the thrift store
black pants: the style isn't really important, but a more authentic look would be to have a higher, pleated waist, wider legs with a center pleat, and cuffs that sit right at ankle height.
black shoes: a traditional style is best
white dress shirt: style isn't too important here
black tie: a wider tie is best
black belt: style unimportant
GATHER BLACK AND WHITE MAKEUP
We didn't want to spend much money on our costumes, so we just bough inexpensive face paint supplies at our local Halloween costume shop. I had some eyeshadow in shades of gray that supplemented the face paint, and I also purchased some black spray paint for my hair.
SPRAY YOUR HAIR
The first step to putting on your costume is to prepare your hair. I didn't get fancy with my hair- I just pulled it up into a French twist, secured with bobby pins, and didn't worry about the front too much, since it would be covered by the beret. Because my hair is brown in real life, I selected black as my hair spray paint color. If you are blonde, I would purchase gray or silver spray. You can wear your hair down for this costume, but you'll need more spray paint, and just be prepared for your hair to get crusty much like it would after spraying lots of hair spray.
You should spray your hair in a well-ventilated area, like outside or in a bathroom with a ventilating fan, and you'll want to be wearing your costume blouse covered by an old towel.
APPLY A BASE COAT OF GRAY MAKEUP
After your hair has been sprayed, you should use a damp cloth to wipe away any overspray on your face and ears. Now apply a base layer of paint. I started out with a tube of gray "zombie" paint from the costume shop, but it was too thin, so I opted for the black and white base meant for clowns, and blended them together on my face. This covered really nicely, and gave me great tones for the next step of the process.
While you are painting your face, be sure to unbutton the top of your shirt and tuck old or paper towels around the opening of your shirt to keep it clean.
ADD DETAILS TO MAKEUP
After your base coat has been completely applied, it's time to do some contouring. I mixed together darker gray for below my cheekbones, and lighter gray for above my cheekbones, on my nose, on my forehead, and on my chin. Think of the principles of contouring, and just mix together the shade of makeup you need for the job.
You might want to use an eyeliner pencil on your eyebrows after wiping away some gray paint with a cotton swap. We used black face paint and cotton swabs, and it was a bit tricky. We used black eyeshadow for contouring on our eyelids, and he even wore mascara so his eyes wouldn't get lost under all that gray makeup.
For his lips, we mixed together a darker shade of gray. For mine I bought a black tube of lipstick from the costume shop, and it went on really easily!
CAREFULLY DRESS YOURSELF
After our makeup was complete, we buttoned-up, piled on our layers, placed our hats neatly on our heads (mine secured with a hat pin), and pulled on gloves to complete the look. In my purse I stashed some extra makeup for touch-ups as the night progressed and our itchy faces lost bits of gray here and there.
Then we took pictures. But pictures don't do these costumes justice- everyone on Facebook will just assume it's been Photoshopped!
DON'T SMILE!
If you really want to shatter the illusion of your black and white movie star style, just smile! Your pink gums were never brighter, and your teeth never seemed so yellow. When it's time to remove your makeup, you can use basic face wash for the bulk of it, and a makeup remover for parts around your eyes, mouth, and ears. Most of my makeup came off after two quick wash and rinses, and a makeup remover solution of equal parts baby oil, baby wash, and water took care of the rest.
Article Posted 5 years Ago